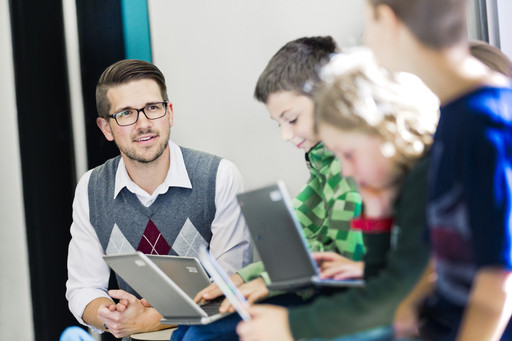 Sherwood Park, A.B. — More than 300 students from Elk Island Public Schools (EIPS) will have the opportunity to program their own stories, games, and animations during the fourth annual Scratch Day on March 10, 2016 at Bev Facey Community High.
Scratch Day is a challenging and fun-filled day for EIPS students in grades 4 to 9 focused on activities and tasks designed to enhance students' computer-programming skills. Using the application known as Scratch—a drag-and-drop software tool used to teach young people computer programming—students will be introduced to computational thinking, coding processes, and tasked with designing games, creating animation, and coding digital stories.
"Our Scratch Day event is becoming a tradition within the Division, which our students look forward to year after year," says David Hay, the event co-ordinator for Scratch Day. "As we hear more and more about the importance of computational thinking skills, staff and parents are recognizing the value in Scratch Day and its activities."
Throughout the day, students will also participate in challenges, in a somewhat gamified environment, and have the opportunity to present completed projects to the rest of the participants at the event.
"The ability to make computers do what we want them to do is an important part of literacy in today's society," says Hay. "Scratch is a unique event that is meant to empower students and ignite their creativity."
Originally launched in 2009, Scratch Day is gaining momentum around the globe. EIPS is one of hundreds of schools and organizations worldwide that currently hosts Scratch Day celebrations, and was one of the first school divisions in Canada to do so. Looking ahead, EIPS will continue to offer students unique ways to think creatively, reason systematically, and work collaboratively—essential life skills in the world today.
EIPS is one of Alberta's largest school divisions, serving approximately 16,900 students in 42 schools. We are proud to be an integral part of our communities, including Sherwood Park, Fort Saskatchewan, Vegreville, Strathcona and Lamont counties, and the western portion of the County of Minburn.
–30–
Download the complete news release.
For more information contact:
David Hay, event co-ordinator, Learning Services 780-417-8245
Karen Baranec, director, Communication Services, EIPS 780-417-8204 cell 780-405-4902