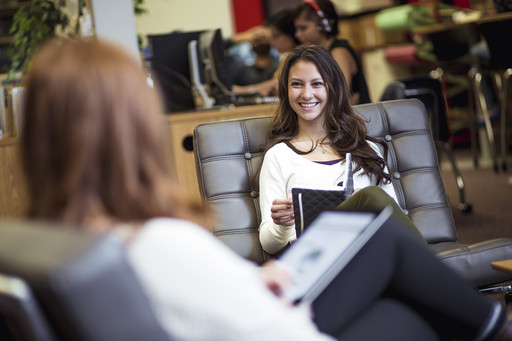 Sherwood Park, A.B. — More than 385 young artists and writers will have the opportunity to explore the influence of prose and illustration during the 27th annual Young Authors' Conference this Saturday, Feb. 20, 2016 at F.R. Haythorne Junior High in Sherwood Park.
The Young Authors' Conference is a long-standing collaborative event that welcomes students from both Elk Island Public Schools (EIPS) and Elk Island Catholic Schools (EICS) for a fun-filled day of informative sessions focused on storytelling, idea generation, and effective communication skills. Students are grouped into two streams—Grades 4 to 6 and Grades 7 to 9—and attend three breakout sessions throughout the day. The sessions are led by acclaimed authors or illustrators who share their knowledge, industry know-how, and life lessons to encourage and inspire students.
"Literacy is an important goal for our Division, and the power of storytelling is one of the most important engines to drive literacy," says Heather Balog, the event organizer for the Young Authors' Conference. "Year-after-year we hear powerful feedback from past participants about how meaningful the conference was for them and how they often refer back to their notes taken during their sessions. That's the goal of the conference—to encourage storytelling and help students apply what they learn to their schooling and future."
Highlights of the Young Authors' Conference 2016 include a number of new and returning authors and artists such as Lorna Bennett, Natasha Deen, Tyler Enfield, Rita Feutl, Joan Marie Galat, Jacqueline Guest, Colleen Heffernan, Patricia MacQuarrie, Tamara Martin Spady, and Gerry Rasmussen. Additionally, a number of nationally renowned artists are slated to present including Mike Boldt, Sigmund Brouwer, Marty Chan, and Gail Sidonie Sobat. And, new to this year's lineup is Laura Comfort, an author and freelance writer.
"EICS students are thrilled to once again be a part of the Young Authors Conference," says Rita Astalosch, the EICS conference liaison. "By encouraging literacy, we're giving students the skills they need to be informed, responsible, and caring members of society."
The Young Authors' Conference is an inter-division event sponsored by EIPS and EICS. A special thanks needs to be given to the organizing committee, volunteers, presenters, and sponsors—EIPS, EICS, Sherwood Staples, and Sobeys-Nottingham. More information about the conference can be found by visiting www.elkislandyac.ca.


About EIPS:
EIPS is one of Alberta's largest school divisions, serving approximately 16,900 students in 42 schools. We are proud to be an integral part of our communities, including Sherwood Park, Fort Saskatchewan, Vegreville, Strathcona and Lamont counties, and the western portion of the County of Minburn. To learn more visit www.eips.ca.
About EICS:
EICS, part of Alberta's publicly funded education system, is committed to developing educational opportunities in
the context of Gospel values. EICS is dedicated to providing quality, faith-based learning environments to students of
any background and faith, where their skills are nurtured and celebrated by dedicated, caring staff. To learn more visit
www.eics.ab.ca.
–30–
Download the complete news release.

For more information please contact:
Heather Balog, Event Organizer, Youth Author's Conference 780-417-8167
Karen Baranec, Director, Communication Services, EIPS 780-417-8204 cell 780-405-4902
Susan Johnson, Communications, EICS, 780-449-7487