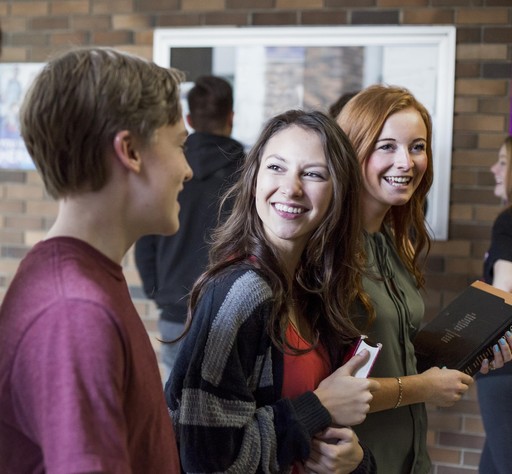 Sherwood Park, A.B. — More than 100 junior and senior high students from Elk Island Public Schools (EIPS) took part in a Student Forum yesterday on Feb. 16, 2016. Led, and facilitated, by EIPS students, the forum kicked off in the morning with an icebreaker exercise focused on the practice of kindness, which set the tone for the rest of the day. This year's Student Forum focused on welcoming, caring, respectful, and safe learning environments.
"A key priority for both the Board of Trustees and the Division is offering opportunities for students to have their voices heard," says Trina Boymook, the Board Chair at EIPS. "The decisions we make directly impact their learning environments—both educationally and personally—so hearing first-hand how they feel and think helps us to make informed decisions."
Last fall, Alberta Education made amendments to the School Act regarding welcoming, caring, respectful, and safe learning environments. To facilitate the change, the Division is in the midst of reviewing its Policy 19, a policy that has been in place for more than 10 years and speaks to welcoming, caring, respectful, and safe learning and working environments. For the past few months, EIPS has solicited feedback from its staff, parents, communities, and now students, all of which will be used to evaluate the Division's Policy 19, develop related administration procedures, and to create a revised Student Code of Conduct. Collectively, the documents will ensure all stakeholders—trustees, students, staff, parents, volunteers, and contractors working for the school board—within the Division continue to have access to welcoming, caring, respectful, and safe learning and working environments.
Using the World Café style—a technique used to facilitate open discussions and link ideas within a larger group—students shared their thoughts on three key area: What an ideal learning environment looks like; what elements of that ideal learning environment are realistic; and what expected behaviours should be included in a Student Code of Conduct.
"It was a powerful experience to be part of because you could see the students—representing schools throughout the Division—come together, connect, share, and agree on what they want their learning environments to look like," says Boymook. "Overall, students felt involved in the decision process and empowered to open up in a candid manner, which is the purpose of the Student Forum."
Over the coming weeks, EIPS will be reviewing the responses from the Student Forum, along with feedback it has gathered from staff, parents, and community members to finalize Policy 19, its procedures relating to Policy 19, and the Division's Student Code of Conduct. The final versions will be presented to Alberta Education at the end of March. For more information about Policy 19 visit www.eips.ca.

EIPS is one of Alberta's largest school divisions, serving approximately 16,900 students in 42 schools. We are proud to be an integral part of our communities, including Sherwood Park, Fort Saskatchewan, Vegreville, Strathcona and Lamont counties, and the western portion of the County of Minburn.
–30–
Download the complete news release.
For more information contact:
Dennis Dykau, Corporate Secretary, EIPS, 780-417-8266
Karen Baranec, Director, Communication Services, 780-417-8204 cell 780-405-4902