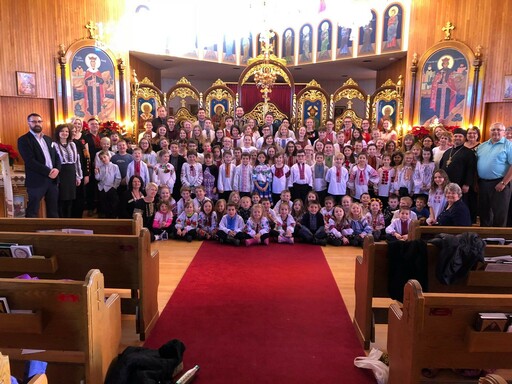 Sherwood Park, AB. — Representatives of the media, parents and community members are invited to join the staff and students of A.L. Horton Elementary as they celebrate the 40th anniversary of the school's Ukrainian Bilingual program on April 11.
"Over the last 40 years, the Ukrainian Bilingual program has become a major part of our community," says Greg Probert, the Principal of A.L. Horton Elementary. "We've been able to cultivate a family-like atmosphere among our students and staff, and build community bonds that last long after our students graduate."
The evening will include a special musical performance from all 120 current students enrolled in the Ukrainian Bilingual program, speeches, refreshments and a feature wall displaying 40 years of memories gathered from past generations of students and teachers.
"Interest in Ukrainian culture has grown tremendously in recent years, and we've noticed that our families and staff are more eager to learn about their heritage than ever before," says Probert. "This interest has only strengthened our bilingual program, and we're excited to see where that momentum will take us in the next 40 years."
Representatives of the media are invited to join staff and students at A.L. Horton Elementary during their 40th anniversary celebrations to learn more about the event.
Event Details: Ukrainian Bilingual 40th Anniversary Celebration
Date:          April 11, 2019
Time:          5 p.m. to 7:30 p.m.
Location:   5037 Ave., gymnasium, Vegreville, AB
NOTE: Principals have the responsibility to limit media coverage only to students approved for interviews. Reporters attending the event are requested to receive permission from a school EIPS representative before interviewing or photographing students. Thank you for your co-operation, and for joining us.
A.L. Horton Elementary serves approximately 350 students in kindergarten to Grade 6 in Vegreville, Alta. It's also one of 43 schools within Elk Island Public Schools. More information about the school is available at www.alhorton.ca.
–30–
For more information contact:
Greg Probert, Principal, A.L. Horton Elementary, 780-632-3113
Laura McNabb, Director, Communication Services, EIPS 780-417-8204 cell 780-405-4902