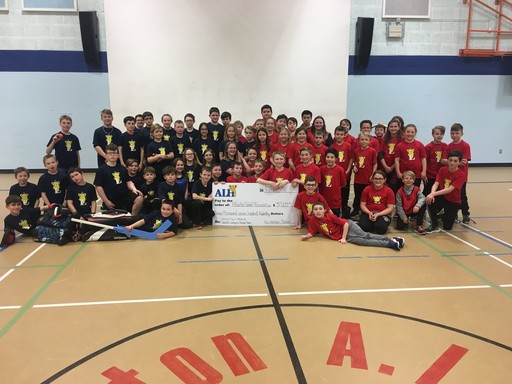 Vegreville, AB. — Students from A.L. Horton Elementary recently took time out of their school day to help raise money for cancer research during the school's inaugural 2018 Hockey Day in Vegreville.
Close to 70 students took part in the event, which coincided with the recent World's Longest Hockey Game. The day kick-started with a school-wide Hockey Day in Vegreville assembly. Students then broke out in teams and went head-to-head to compete in a full-day floor hockey tournament.
"Everyone worked so hard to ensure the event was a success," says Murray Howell, a teacher at A.L. Horton Elementary who also organized Hockey Day in Vegreville. "Our students and staff all came together fundraising, organizing and managing the event. The result: They had a great time and now have a better understanding about the importance of cancer research."
Overall, students raised more $3,700, which is being donated to the Alberta Cancer Foundation. The foundation will use the money to support pediatric cancer research to better understand risk factors, improve screening methods and provide better treatments.
"A key priority for us is to continually have students participate in community-service learning opportunities," says Howell. "As such, this event was the perfect fit for us with such an important cause. Long-term, our hope is to make Hockey Day in Vegreville an annual event."
A.L. Horton Elementary is a kindergarten to Grade 6 school serving approximately 380 students in Vegreville, Alta. It's also one of 42 schools within Elk Island Public Schools. More information about the school is available at www.alhorton.ca.
–30–
For more information contact:
Ralph Arndt, assistant principal, A.L. Horton Elementary 780-632-3113
Laura McNabb, director, Communication Services, EIPS 780-417-8204 cell 780-405-4902