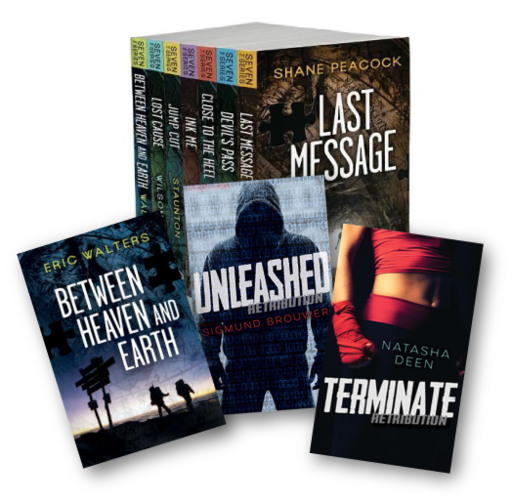 Sherwood Park, AB. — Students from Elk Island Public Schools (EIPS) are being treated to a day of reading and storytelling with the help of four special guests. On October 2-4, award-winning Canadian authors Sigmund Brouwer, Natasha Deen, Shane Peacock and Eric Walters are visiting schools throughout EIPS and speaking with hundreds of students in grades 4 through 12 to discuss the importance of literacy and inspire a love for reading.
"There's a tendency to think reading is old-fashioned or boring," says Janice Sundar, a secondary literacy consultant at EIPS. "The author tours help to quash that myth by getting students to dig into a story and learn what goes into creating one. In doing so, students come away both engaged and excited about reading."
Deen is one of the authors of the Retribution series, a collection of five high-interest novels with interconnected stories and characters tackling topics such as truth, justice and survival. Brouwer, Peacock and Walters are three of the authors involved in The Seven Series, a collection of seven interweaving novels each written by seven different authors. Since its release in 2012, the series has become a mainstay in classrooms nationwide. In fact, The Seven Series is so popular among youth readers, the authors have since released another two series—The Seven Sequel and The Seven Prequel.
"Books, such as The Seven Series and Retribution are powerful tools," says Deen. "Not only are they accessible to all levels of readers, they have the kind of spine-tingling plots and relatable characters that help hook kids on becoming lifelong readers. That's one of the reasons the author tours are so important. We help get students excited about finding their next book and show them why they—and their stories—matter to the people around them."
Armed with songs, humour, videos, dramatic readings and personal stories, each author will use storytelling to emphasize the importance of reading and writing and do so in a way that motivates even reluctant readers to reach for a book. "Our goal is to show learners how much fun it is to discover new stories by reading," says Brouwer. "And, who doesn't love a great adventure?"
Walters agrees: "Students genuinely enjoy our presentations and are moved by what they see and hear. That's exactly what we want—to leave students excited about literacy and wanting to check a book out of the library."
In addition to the tours, Lakeland Ridge is hosting an Authors Talk on October 3. The talk is open to the public and includes Brouwer, Deen, Peacock and Walters together who will share their insight, inspiration and even a bit of laughter. "We're all looking forward to the Authors Talk," says Peacock. "It's a chance to discuss our books, share our personal stories and, in all likelihood, make fun of each other too. Like the school tours, we ultimately want to connect with our readers and share our passion for books."
Event Details: Authors Talk
Date: Oct. 3, 2017
Time: 6 p.m.
Place: Lakeland Ridge, 101 Crimson Dr., Sherwood Park
Cost: Free
ABOUT THE AUTHORS:
Sigmund Brouwer is a best-selling author with more than 90 titles under his name. Over the years he's been honoured with numerous awards including The Christy Award Book of the Year and the Arthur Ellis Award. His most recent novel entitled, Thief of Glory, won the 2015 Alberta Readers' Choice Award.
Natasha Deen is a renowned children-young-adult author known for her ability to tell stories in an humorous, engaging and feel-good way. Deen's most recent books include Lark Holds the Key, Sleight of Hand and Guardian, which were recently recognized by the Canadian Children's Book Centre, the Moonbeam Children's Book Awards and The Sunburst Award Society.
Shane Peacock is an acclaimed author of several books, plays, documentaries and articles. He's best known for his series entitled, The Boy Sherlock Holmes. Throughout his career he has earned a number of accolades for his writing including the Junior Library Guild of America Premier Selection Award, the IODE Violet Downey Award for Canadian Children's Literature, and the Arthur Ellis Award for Best Juvenile Crime Fiction in Canada.
Eric Walters is an author and motivational speaker who has written more than 70 novels for young adults. His novels have earned hundreds of awards, including the Ontario Library Association's Silver Birch Fiction and Red Maple Fiction awards. He's also a recipient of the Order of Canada and co-founder of Creationofhope.com, an orphanage in Kenya.
ABOUT EIPS:
Elk Island Public Schools is one of Alberta's largest school divisions, serving approximately 17,100 students in 42 schools. We are proud to be an integral part of our communities, including Sherwood Park, Fort Saskatchewan, Vegreville, Strathcona and Lamont counties, and the western portion of the County of Minburn. 
–30–
 
For more information contact:
Janice Sundar, secondary literacy consultant, EIPS 780-417-8147
Laura McNabb, director, Communication Services, EIPS 780-417-8204 cell 780-405-4902