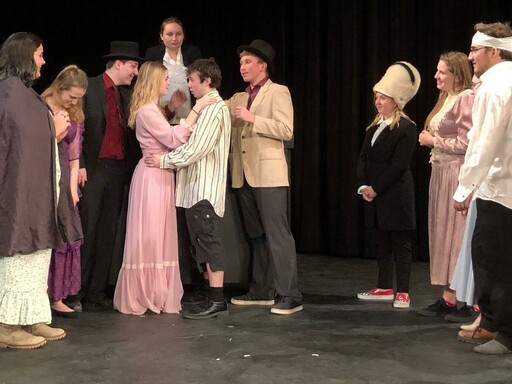 Sherwood Park, AB. — Ardrossan Junior Senior High's theatre group, Ardrossan Drama Company (ADC), is proud to present Tom Jones, a coming-of-age story written by Henry Fielding, on March 13-16. 
Tom Jones tells the story of a young man of unknown origins who must navigate the treacherous world of upper-class English society. Because of the mysterious circumstances of Jones's birth, his upper-class peers often assume the worst of his heritage and character. What follows is the tale of a rough but kind-hearted man trying to find his place in a society that has rejected him.
"Our cast and crew have worked so hard for the last five months preparing for this show and we're excited to finally be able to share it," says Wade Hayden, the theatre teacher at Ardrossan Junior Senior High. "It's a story about truth, love and hypocrisy that asks us to examine the value of appearances."
Ardrossan Junior Senior High's ADC program offers students, in grades 7 through 12, the opportunity to develop both the artistic and technical areas of acting through practical hands-on learning. In total, 40 students are enrolled in the program, all of whom are involved in the upcoming performance of Tom Jones. Together, through Tom's story, they'll entertain and delight audience members—sure to be fun for the entire family.
Show Times:
Dates: March 13, March 14, March 15 and March 16
Time: 7 p.m.
Location: Ardrossan Community Theatre; 53129 Range Road 222; Ardrossan
Tickets: $12, pre-purchased at the school or online at www.onstagedirect.com; $15, purchased at the door


Ardrossan Junior Senior High offers a dual-track English and French immersion program serving approximately 800 students in grades 7 to 12. The school is one of 43 schools within Elk Island Public Schools. More information is available at www.ardrossan.ca.
–30–
For more information contact:
Wade Hayden, Theatre Teacher, Ardrossan Junior Senior High, 780-922-2228
Laura McNabb, Director, Communication Services, EIPS 780-417-8204 cell 780-405-4902