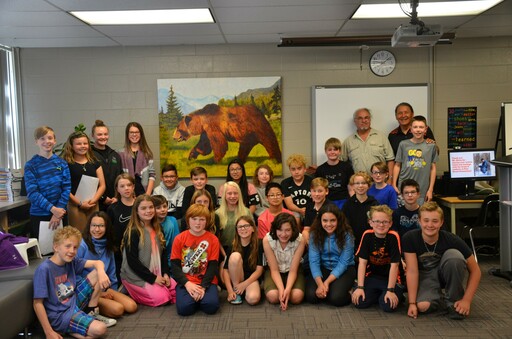 Sherwood Park, AB. — The Grade 6 students of Pine Street Elementary unveiled a new art piece that will be displayed on their library wall for all future students and visitors to contemplate and admire. The oil painting, a creative re-imagining of the school's logo, was a collaboration between the students and visiting Artist-in-Residence, Keith Nolan. "Working with these students is an experience that's hard to explain," says Nolan. "With my technical knowledge and their youth, innocence, truth, goodness and virtuous spirit, a beautiful painting was realized. Sometimes the teacher becomes the student, and I think that's what happened here."
Nolan is an award-winning Ojibwa Cree artist from Missanabie Cree First Nation in northern Ontario, and has been living and working in Alberta for the last 20 years. Over the course of three days, he worked with the Grade 6 students in small groups to teach them about oil painting fundamentals like colour mixing and proper brush strokes. Each of the 40 Grade 6 students worked on few small square sections of the canvas and together, under Nolan's guidance, their work came together to form a seamless whole. While they worked, Nolan also shared stories and cultural knowledge with the students, giving further context to the work they were doing.
The painting, while striking on its own, is also symbolic of the lessons students have been learning about the Seven Sacred Teachings, traditional Indigenous knowledge about how to treat others and conduct yourself. "The bear has always been an important part of First Nation's thinking because it symbolizes courage," say Icy and Peyton, two of the students who worked on the piece. "We use courage in our daily lives when we take risks and test our chances. When you are courageous, your bravery shines and you overcome your fears with confidence."
Along with courage, the rest of the seven teachings—humility, honesty, truth, respect, love and wisdom—are represented by the seven pine trees behind the bear. This theme, just like the painting itself, came as the result of a collaborative discussion between the students, teachers and Nolan "We're very grateful to Mr. Nolan for coming in and sharing his art and his knowledge with us," says Kerri Remeika, Assistant Principal at Pine Street Elementary. "I think we all came away from the experience a little wiser and more mindful of how we can use art to form connections and share our stories with each other. I'm sure this experience will remain with our students for many years to come."
Pine Street Elementary serves approximately 370 students in kindergarten to Grade 6 and is one of 43 elementary schools within Elk Island Public Schools. More information about the school is available by visiting www.pinestreet.ca.
–30–
For more information contact:
Kerri Remeika, Assistant Principal, Pine Street Elementary, 780-467-2246
Laura McNabb, Director, Communication Services, EIPS 780-417-8204 cell 780-405-4902