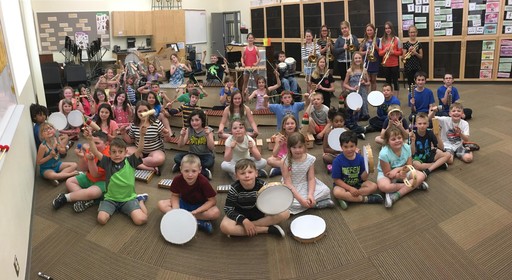 Mundare AB. — Mundare School and Vegreville Composite High are two of only eight Alberta schools receiving grant funds via the national 2017 MusiCounts Band Aid Program. This program provides almost $800,000 in new instruments for schools across Canada.
"Music education in schools is very important," says Liane Schultz, Mundare School principal. "This is a great opportunity for children in our school to both receive instruments and to express their creativity together."
Mundare School received $10,000 and Vegreville Composite High, $5,000 in grants for instruments that help to make music more accessible to students in these schools.
In Mundare, the school has purchased a class set of Orff xylophones and metallophones, about 50 small percussion instruments for elementary music, and new flutes, trumpets and trombones for band. At the school in Vegreville, the band now has a new piccolo, tuba and alto saxophone.
Maureen Yule is the music and band teacher for both schools and is excited at the opportunity new instruments will provide.
"Receiving this grant is amazing." says Yule. "There is a lot of value in educating through music. I look forward to using the new instruments in our classes and really celebrate the many skills of our students."
The grants allowed the schools to upgrade some of the old inventory that is wearing out.
"We have a very strong band program at the school," says Barclay Spady, principal at Vegreville Composite High. "New instruments will help us enhance our learning environment and this opportunity will help reinforce student's interest in music."
The instruments are already purchased and being used at each school. And students are excited at the opportunity to learn music through instrument performance.
PHOTO CAPTION INFORMATION: Students from Mundare School display the new Orff xylophones, metallophones and other percussion and band instruments purchased through the Band Aid grant from MusiCounts. Students Dylan, Claudia and Christina from Vegreville Composite High show off the school's new trombone, alto-sax and piccolo.

Mundare School serves approximately 160 students in Kindergarten to Grade 8 and is one of 42 schools within Elk Island Public Schools. More information about the school is available at www.mundareschool.ca.


Vegreville Composite High serves approximately 400 students in grades 7-12 and is one of 42 schools within Elk Island Public Schools. More information about the school is available at www.vegcomp.ca.

–30–
For more information contact:
Liane Schultz, principal, Mundare School, 780-764-3962
Barclay Spady, principal, Vegreville Composite High, 780-632-3341
Laura McNabb, director, Communication Services, EIPS 780-417-8204 cell 780-405-4902