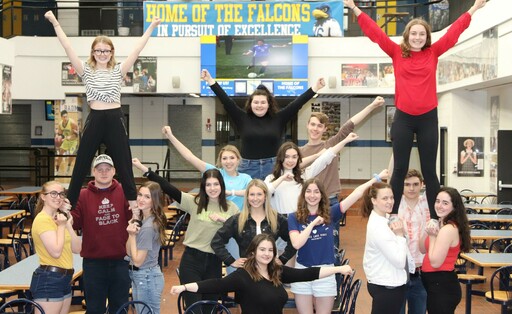 Sherwood Park, AB. — Bev Facey Community High is proud to present Bring It On: The Musical, an adaptation of the classic teen comedy, May 21-23.
Performed by students enrolled in the school's performing arts program, Bring It On: The Musical takes audiences to the high-stakes world of competitive high school cheerleading. The story follows Campbell Davis as she navigates the treachery and drama of high school politics to guide her team to victory in the national cheer championship. Students will also perform many of the classics from the musical including What I Was Born to Do, Bring It On and Cross the Line.
Bev Facey's performing arts program is one of the largest in the province and includes disciplines in drama, musical theatre, advanced acting and technical theatre. The aim of the program is to offers students the opportunity to develop their artistic skills, learn about performance and production, share their passion for the theatre and gain a broad spectrum of skills. Close to 175 students are enrolled in the school's performing arts program, over 100 of whom are involved in Bring It On: The Musical.
"Our students are putting on a wonderful show, but in the process, they're also developing important skills that will serve them well in life," says Larry Frank, one of the performing arts teachers at Bev Facey Community High. "A musical is a complex production that requires a lot of teamwork, flexibility and creative problem solving. I'm very proud of the work they've put in, and it's sure to be a memorable performance."
Fueled by genuine cheerleader energy, Bev Facey's production of Bring It On: The Musical is sure to entertain and delight audience members with its incredible choreography and cheer stunts.
Show times and details:
Dates: May 21-23
Times: Evening performances: 7 p.m. (doors open 30 minutes before showtime)
            Matinee performances: 12:30 p.m. (May 21-22)
                                                    9:30 a.m. (May 23)
Place: Festival Place; 100 Festival Way; Sherwood Park
Cost: $20. Tickets can be purchased at the Bev Facey front office or the Festival Place Box Office
Bev Facey Community High serves approximately 1,000 students in grades 10 to 12 and is one of 43 schools within Elk Island Public Schools. More information about the school is available at www.bevfacey.ca.
–30–
For more information contact:
Larry Frank, Musical Theatre Teacher, Bev Facey Community High, 780-467-0044
Laura McNabb, Director, Communication Services, EIPS 780-417-8204 cell 780-405-4902