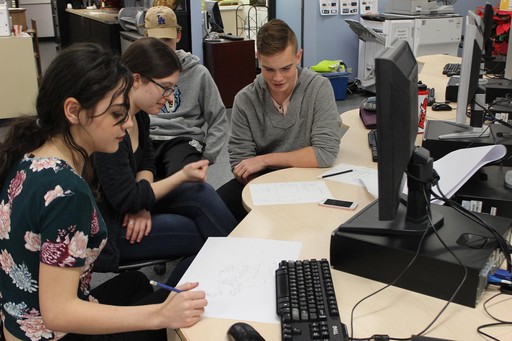 Sherwood Park, AB. — Representatives of the media, families and community members are invited to join Bev Facey Community High as it showcases its new escape room on December 20. As part of their social studies curriculum, Grade 10 students are designing and building their own escape room, where groups of participants are being challenged to put their social studies knowledge to the test—solving puzzles and discovering clues to release them from the room.
All of the clues and puzzles are themed around globalization—one of the units in the Grade 10 social studies curriculum. On December 20, students at Bev Facey Community High and community members will have a chance to see their handiwork and do their best to solve the puzzles before the time limit expires.
"I love the creativity and hands-on aspect," says Sheldon Innes, a Grade 10 at Bev Facey Community High who is one of the students working on the project. "The project allows us to share what we've learned in class, and use teamwork to bring the design to life."
Event Details:
Date: Dec. 20, 2018
Time: 4 p.m. to 6:30 p.m.
Place: Bev Facey Community High, 99 Colwill Blvd., Sherwood Park
NOTE: Principals have the responsibility to limit media coverage only to students approved for interviews. Reporters attending the event are requested to receive permission from a school EIPS representative before interviewing or photographing students. Thank you for your co-operation, and for joining us.
Bev Facey Community High serves approximately 1,000 students in grades 10 to 12 and is one of 43 schools within Elk Island Public Schools. More information about the school is available at www.bevfacey.ca.
–30–
For more information contact:
Laura McNabb, director, Communication Services, EIPS 780-417-8204 cell 780-405-4902