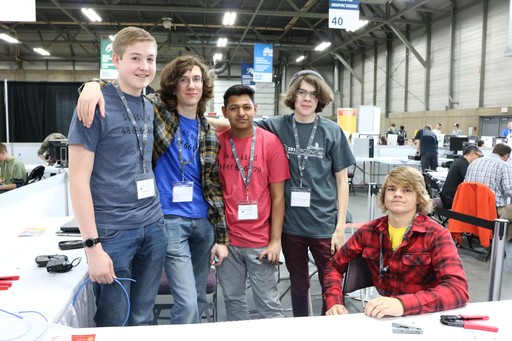 Sherwood Park, AB. — Turning raw materials into electronic devices can be challenging for some, but what better place to learn how to make a finished product than at the Alberta Skills Competition? Bev Facey Community High students did exactly that, displaying their skills and teaching participants how to make Ethernet cables at the competition on May 11. Students volunteered their time to run a trade booth at the event.
"This was the first experience for most of our students in running a trade booth," says Facey computer teacher Michelle Killoran. "It was a perfect way to showcase their skills and teaching abilities. Participants at the competition were extremely impressed."
Students guided participants on how to take raw cable materials and create an Ethernet cable they can use without the risk of starting a fire or damaging devices, essentially mimicking what you would purchase in an electronics store.
"This was a great experience for me," says Nicholas Chin, a student volunteer. "I learned how to work with many different people at the Skills Competition, teaching others how to build a product that really works."
Trade booths at the event were run by students and some industry representatives. The crews from Facey (six from grade 10 and 11 each day) cut cable, stripped the wiring, aligned the pins in the right order and capped the wires correctly. After crimping and testing of both ends—voila, a new Ethernet cord!
PHOTO CAPTION INFORMATION:
Bev Facey Community High students Kieran, Tom, Rahul, Coltin and Alex were part of a Skills Alberta trade booth where they taught participants how to create Ethernet cable cords. They are wearing t-shirts created by Kieran with "Team Hoffy" in hex (colour) code to support Josh Hoffmann, who finished second place in competition this year.
Bev Facey Community High provides programming for approximately 1,100 students in Grades 10 to 12. Located in Sherwood Park, Bev Facey is one of 11 high schools within Elk Island Public. More information about the school is available at www.bevfacey.ca.


–30–
For more information contact:
Paul Pallister, principal, Bev Facey Community High, 780-467-0044
Laura McNabb, director, Communication Services, EIPS 780-417-8204 cell 780-405-4902