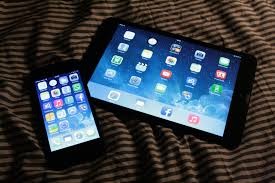 Sherwood Park, AB. — Computer Engineering has been a goal for Josh Moore over most of his high school career. With eyes set on attending NAIT for Computer Engineering Technology, he secured an internship at the University of Alberta's department of Computing Science and has worked on many projects as part of Bev Facey Community High's computer science program over the past three years.
It was around this time Moore started development on the Bev Facey Android App, recently launched on the Google App Store.
Using the Bev Facey Community High website designed by Box Clever as a starting point—and incorporating designs produced by classmates Carter Seeley and Ian Cho—Moore was able to create an application from scratch that provides all the important information students need right at their fingertips. App features, including a quick-links section makes it easier to call the office, access PowerSchool and obtain classroom information.
Accessing school programs and activities directly from a smartphone allows parents, guardians and students the opportunity to stay informed with what's happening at the school while on the go—trends have shown parents and students are more likely to use an application instead of searching mobile websites.
"My goal was to make it easy for my peers to access information on their phones instead of just on the website," says Moore. "I was able to use what I learned in my internship as well as from my computer classes to focus on an app for the school."
Computer science is a highly advanced program at Facey—even at the grade 10 level, exceptional computer skills are constantly on display. Students specialize in developing online chatbots for gaming applications, creating complex strategy games and even turning out Sudoku games capable of generating their own boards.
"As part of the computer science program, we encourage students to try out their own ideas and create their own applications," says Facey computer teacher Michelle Killoran. "We do a lot of project-based learning."
Career and Technology Studies including computer technology creates opportunities for students, including creating applications, conventional computer science and programming.
"We have a lot of great program options here at Facey, including the work being done in computer science," says Paul Pallister, Facey's principal. "It's always exciting to see our students create and succeed—I look forward to using the app!"
The Bev Facey Community High app is free for students, parents/guardians and families on the Google Play store and most likely in the near future from the iOS app store.
Bev Facey Community High serves approximately 1,017 students and is one of 42 schools within Elk Island Public Schools. More information about the school is available at www.bevfacey.ca.
–30–
For more information contact:
Paul Pallister, principal, Bev Facey Community High, 780-467-0044
Laura McNabb, director, Communication Services, EIPS 780-417-8204 cell 780-405-4902