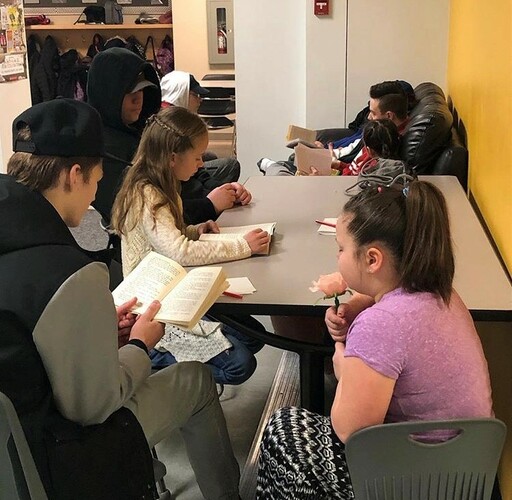 Sherwood Park, AB. — When students fall in love with reading and writing, it doesn't take much effort for teachers to get them to succeed in English class. But it can be difficult for some students to invest in their own literacy development if they never forged that initial relationship with books. An innovative literacy pilot program at Fort Saskatchewan High seeks to remedy this gap, by helping struggling Grade 10 English students build relationships with reading and writing and take charge of their own literacy.
The program started two years ago as an attempt to better address the learning needs of English 10-2 students. The first innovation was to make English 10-2 a yearlong course instead of only lasting a single semester. Students get double the credits to reflect the course length, and the added time helps teachers get to know the strengths and weaknesses of individual students, as well as the specific tools they need to succeed.
Next came a change in mindset. To help students form emotional connections with the books they were reading, teachers let each student decide what they would read, no matter the level of difficulty. "We want to remove this idea of shame or embarrassment and let students feel confident and proud of what they're reading," says Renetta Peddle, an English teacher at Fort Saskatchewan High. "Reading comic books is still reading. Reading your drivers' training manual is still reading. If students have a connection to what they're reading, they're forming a relationship with language and growing their skillset." Additionally, frequent trips to the city library and even an annual trip to Indigo to pick out classroom books helps to normalize books in the minds of students and show them how accessible reading can be.
After about 15 to 20 minutes of reading at the start of each class, students practice writing through real-world applications like text messages, social media posts or anything else that demonstrates a use for writing in their everyday lives. Through lessons, book discussions and even a regular class-wide audiobook listening exercise, students get constant exposure to different literacy topics. This regular schedule, designed to be purposeful and consistent, helps build routine and quickly gets students in the right frame of mind to meet their literacy goals.
The English classes also partner with the Grade 4 classes at Fort Saskatchewan Elementary for a reading buddy program. Once a week, the classes travels to the elementary school to read with their Grade 4 partners. It's up to the Grade 10 students to choose an appropriate book and share their knowledge and expertise with their young partners. "The reading buddy program instils a certain sense of responsibility in our Grade 10 students," says Peddle. "For some students, this is the first time they've had to be the authority on reading and storytelling. They have to be able to take the lead and answer their partner's questions about the books." The change in attitude has been noticeable, as Grade 10 students plan out their reading lists and begin to think of themselves as knowledge holders rather than knowledge recipients.
After two years of running the pilot, it's safe to say the program has been a success. Of last year's 21 students, 18 improved their literacy skills by at least one grade level, with some students jumping by two grade levels or more. Following the completion of English 10-2, students re-enter the traditional English program for grades 11 and 12, but the foundational skills they've learned carry on with them through to graduation.
EIPS is one of Alberta's largest school divisions, serving approximately 17,400 students in 43 schools. We are proud to be an integral part of our communities, including Sherwood Park, Fort Saskatchewan, Vegreville, Strathcona and Lamont counties, and the western portion of the County of Minburn.
–30–
For more information contact:
Laura McNabb, Director, Communication Services, EIPS 780-417-8204 cell 780-405-4902