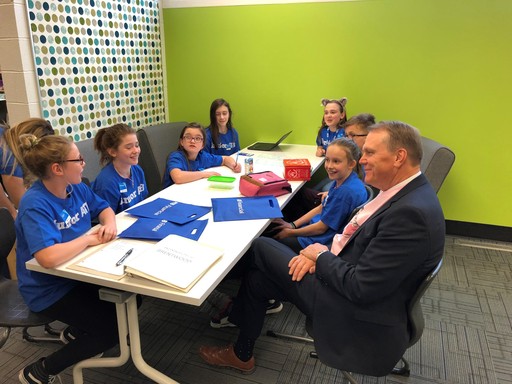 Sherwood Park, AB. — Students from Brentwood Elementary got an unexpected surprise at their school earlier today. Financial guru and ATB Financial president, Dave Mowat, stopped by the school to offer words of wisdom around financial literary and personal money management. "It was really cool to have him here because he talked about all the different reasons it's important to save money—things I hadn't thought of," says Ava, a Grade 6 student at Brentwood Elementary. "He also took a tour of our Junior ATB branch and gave us tips on how to promote it within the school."
Brentwood Elementary's Junior ATB branch is an in-school financial literacy program supported by ATB Financial. Every second Thursday during the noon-hour break, Grade 6 students operate their own working ATB branch. With the guidance of real ATB associates, the students serve various roles typically performed in a bank. During business hours, the rest of the school is invited to come into the branch to either open an actual savings accounts or make a deposit in their already existing account—deposits typically range between $0.25 and $100.
"The Junior ATB program is a fun and innovative way to teach students about financial principles," says David Roper, the assistant principal at Brentwood Elementary. "Money management is something we need to help students understand because it is increasingly becoming a part of their lives and will continue to be important as they grow older."
Each student involved in the Junior ATB program has to apply and interview for one of the job titles within the branch—greeter, teller and back cash counter. There's even a CEO position and various junior board of director positions. Once hired, each member learns about proper banking procedures with real money and how to manage their customer accounts. After deposits are completed at the school, funds are taken to the local ATB branch and deposited into each individual's account. In addition to the operations, student are responsible for promoting the branch school-wide, which includes posters, videos and school announcements.
"One of the most powerful tips Dave Mowat gave students about money was to 'always remember to think and plan ahead,'" says Roper. "These are life skills students need to be successful in life and complements what they're learning in the classroom from numeracy to personal finance to character building."
Brentwood Elementary serves approximately 480 students and is one of 42 schools within Elk Island Public Schools. More information about the school is available at www.brentwoodelementary.ca.
–30–
For more information contact:
David Roper, assistant principal, Brentwood Elementary 780-467-5591
Laura McNabb, director, Communication Services, EIPS 780-417-8204 cell 780-405-4902