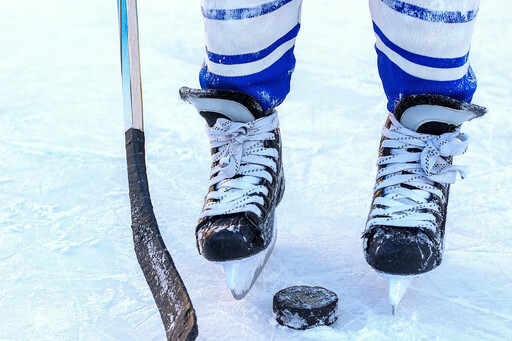 Sherwood Park, AB. — Today, students from Clover Bar Junior High are taking time out of their schedule to help fundraise for two local homeless support agencies during this year's Hockey Helps the Homeless tournament in Edmonton.
Twenty students from Clover Bar Junior High's Hockey Program and leadership classes are helping facilitate the tournament, which is an annual event to bring awareness and support for Edmonton's homeless population. The students spent the day carrying hockey equipment for the tournament's players and welcoming guests into the event. In total, more than 200 players participated in the tournament, including former NHL players and Olympic athletes.
"It was fun to see the famous players, even though there were so many I couldn't name them all," says Gracie Gamache, a Grade 8 student in the Clover Bar Hockey Program. "It's nice to see them helping out in the community, and I was proud to be sitting alongside them. The players from the Olympic women's team were so easy to talk to, and answered any questions we had."
Overall, the tournament raised Over $250,000, which is being donated to two local homeless support agencies: Jasper Place Wellness Centre and The Mustard Seed. The money raised will help the agencies offer a variety of services including housing, counselling, health services, life-skills training and mentoring for Edmonton's homeless community.
"Our Hockey Program is designed not only to improve people as players, but as thoughtful, caring members of the community," says Richard Benson, a teacher and hockey co-ordinator at Clover Bar Junior High. "Our students are very fortunate to be able to devote so much of their time to hockey, but part of the skillset they're building is a sense of social responsibility to help others."
Clover Bar Junior High's Hockey Program provides an engaging academic and athletic curriculum to its student hockey players. Over the course of the year, players participate in three skills-focused sessions in a six-day cycle and spend approximately 100 hours on the ice. The program puts an emphasis not only on their hockey skills but also academics, nutrition and character development. In total, more than 40 students—made up of both boys and girls—are enrolled in the program.

Clover Bar Junior High serves approximately 360 students in grades 7 through 9 and is one of 43 schools within Elk Island Public Schools. More information about the school is available at www.cloverbar.ca.
–30–
For more information contact:
Richard Benson, Hockey Co-ordinator, Clover Bar Junior High 780-467-2295
Laura McNabb, Director, Communication Services, EIPS 780-417-8204 cell 780-405-4902