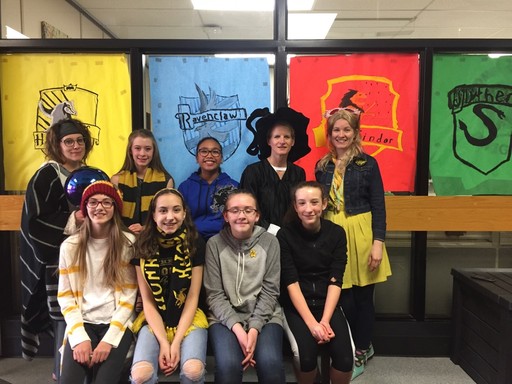 Sherwood Park, AB. — Though Harry, Ron and Hermoine left school long ago, a group of students at Clover Bar Junior High recently boarded the Hogwarts Express to revisit the powerful enchantment of the world of reading.
On May 2, the school hosted its second-annual Harry Potter Day to raise awareness around young literacy. Organized by the Knights Roundtable Club—a student-led group aimed at developing skills in leadership, project management and community outreach—the day featured games, treats and costumes, all centred around the popular Harry Potter book series.  "As a school, we're always finding ways to build a reading culture, and it's great to see these students carry on that initiative," says Kandice Laurie, a teacher at Clover Bar Junior High who also oversees the Knights Roundtable Club. "Originally the day was solely centred on dressing up and having fun activities, but the students wanted to find a way to add more meaning."
Students spent the day in character and were assigned to one of four Hogwarts Houses: Gryffindor, Hufflepuff, Ravenclaw and Slytherin. They then completed a series of activities aimed at raising money to purchase new books for the school's library and the Young Alberta Book Society, an Alberta-based non-profit organization aimed at fostering literacy and a love of reading among young people. Some of the activities included toonie donations Harry Potter related games and a literacy-themed raffle basket. 
"It was fun and everyone enjoyed all the games and costumes," says Ana, a Grade 8 student at Clover Bar Junior High. "I think it served its purpose. We raised awareness around literacy and found a way to build relationships within the school. We also raised $425 for the cause."
Throughout the year, the Knights Roundtable Club organizes close to 10 school events focused around community outreach. Looking ahead, the club hopes to continue to make Harry Potter Day an annual event and even double donations next year.
Clover Bar Junior High serves approximately 400 students in grades 7 through 9 and is one of 42 schools within Elk Island Public Schools. More information about the school is available at www.cloverbar.ca.
–30–
For more information contact:
Tanya Krekoski, counsellor, Clover Bar Junior High 780-467-2295
Laura McNabb, director, Communication Services, EIPS 780-417-8204 cell 780-405-4902