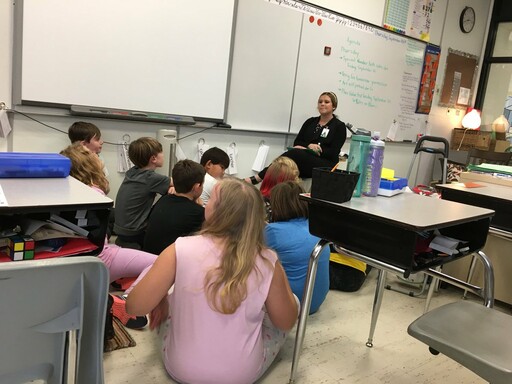 Sherwood Park, AB. — Of all the classes students take in school, math often seems the most rigid. It can feel strict and unbending, like a collection of firm rules where memorization is the only way to succeed. Alexandra Candler, a numeracy consultant with Elk Island Public Schools (EIPS), is taking the stage at this year's Teachers' Convention to help dispel that myth by promoting a conception of math that is flexible, meaningful and most importantly, fun.
While math itself may not change much over time, the relationship people have toward it definitely does. "In the past, our main goal in math education was to produce citizens who could compute numbers quickly and accurately," says Candler. "They didn't have access to the tools we have now, so understandably, their priorities were different."
Nowadays, most people walk around with a calculator app in their pockets. While it's still important to learn basic number computation skills, it's no longer the end goal. "Our culture needs people who can think about math on a deep level," she says. "We need people who can apply mathematical thinking to many different problems and with a wide degree of adaptability."
In her role as a consultant, Candler works with students to foster adaptability and creativity in addition to traditional math skills. "There's more to understanding than just getting the correct answer," she says. "It's more important for students to struggle, just a little bit, and push themselves to apply their thinking in new ways. We call this productive struggling."
As students improve their skills, these areas of struggle will change and increase in complexity. By training them to be flexible, however, they will never be entirely out of their depth. Numeracy skills, like most skills, are something that can be learned by anyone. By shifting the focus of math lessons from primarily memorization to an understanding of concepts, the door is open for more students to make meaningful connections with the material. "My hope, and part of the reason I'm presenting at Teachers' Convention," Candler says, "is that in the future, there will be no such thing as someone who thinks they lack the natural inclination to be successful in math."
EIPS is one of Alberta's largest school divisions, serving approximately 17,150 students in 43 schools. We are proud to be an integral part of our communities, including Sherwood Park, Fort Saskatchewan, Vegreville, Strathcona and Lamont counties, and the western portion of the County of Minburn.
–30–
For more information contact:
Laura McNabb, Director, Communication Services, EIPS 780-417-8204 cell 780-405-4902