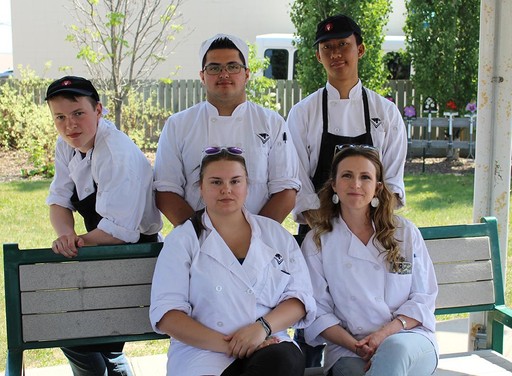 Vegreville, AB. — Culinary arts students from Vegreville Composite High are teaming up with Impact Vegreville and the Rotary Club of Vegreville, to launch a new fundraising program called Rendezvous Fridays. The program allows local organizations in Vegreville the opportunity to run a fundraiser, put on a performance or organize other activities to promote community spirit.
"We had the honour of being the first to host Rendezvous Fridays and the students had a great time," says Deanna Miller, the culinary arts teacher at Vegreville Composite High. "They were able to connect with local businesses, show off their skills and get out of their comfort zones."
On May 25, four senior high students from the school's culinary arts program spent the noon hour serving up healthy lunches, such as assorted wraps and salads. The food was prepared fresh by the culinary arts students using the Alberta Nutrition Guidelines for Children and Youth (ANGCY), aimed at highlighting both their skillset and Elk Island Public Schools new Administrative Procedure 164, Nutrition, a Division-wide standard for food and beverages served on EIPS school property—in cafeterias, canteens and vending machines; for hot-lunch programming; during fundraising activities; and at school-based parties and events.
"Everyone loved the food, especially the nutritional factor," says Miller. "We are always conscious of what we're serving. It's important that we're offering high-quality and beautifully presented food to encourage healthy eating in our students and community."
Members of the local business community came out to support the fundraiser, including employees from Wilde & Company, Vegreville Dental Centre, Olson Law and The Quilt Rack. In total, the students raised $265 for the school which will be used towards new equipment for the culinary arts program and offsite-learning opportunities for students.
Vegreville Composite High hopes to take part in Rendezvous Fridays again later this June.
Vegreville Composite High serves approximately 380 students in grades 7-12 and is one of 42 schools within Elk Island Public Schools. More information about the school is available at www.vegcomp.ca.
–30–
For more information contact:
Deanna Miller, teacher, Vegreville Composite High 780-632-3341
Laura McNabb, director, Communication Services, EIPS 780-417-8204 cell 780-405-4902