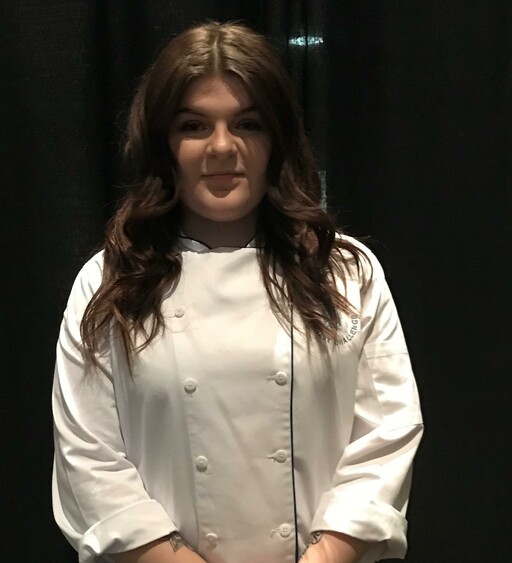 Sherwood Park, AB. — Salisbury Composite High culinary student, Hannah Goyer, is one of four recipients of the prestigious High School Culinary Challenge Scholarship/Mentorship program. "I thought I was dreaming when they called out my name," says Goyer, Grade 12. "I couldn't believe it. I've been worried about student debt, and now all that is taken care of. It's huge, and I have so many people to thank, especially my teacher Mr. Hess."
The recipients were announced last night, at the annual High School Culinary Challenge (HSCC) awards dinner, hosted by the Canadian Culinary Federation Edmonton. The scholarship is designed to recognize the accomplishments of Edmonton-area high school students who participated in the recent High School Culinary Challenge. To date, Goyer is the fifth student from Salisbury Composite High awarded with an HSCC scholarship. "Hannah has worked so hard all year and has truly earned this award," says Herb Hess, the Commercial Foods Teacher at Salisbury Composite High. "All of us at SAL—teachers, staff and classmates—are so proud of her and know she will go on to achieve great things in the sector."
Over a three-year period, Goyer will receive funding to cover the cost of tuition, uniforms, knives and other necessities while enrolled in the Cook Apprenticeship Program at the Northern Alberta Institute of Technology. In addition, Goyer will gain valuable industry experience through three different apprenticeship placements at some of the top restaurants in the region.
Also announced at the awards dinner were the winners of the 2020 High School Culinary Challenge. In February, 19 regional high school teams competed in the challenge, including two EIPS teams from Lamont High and Salisbury Composite High. Each three-member team prepared a three-course meal—complete with soup, entrée and dessert. The plates were then evaluated by a panel of judges, made up of accomplished professional chefs, using seven marking criteria: sanitation, timing, temperature, organization, presentation, preparation and, of course, taste. Overall, the judges were impressed with the calibre and skill level of both teams.
Congratulations to Hannah Goyer and the two EIPS teams involved in this year's High School Competition Challenge.
Elk Island Public Schools is one of Alberta's largest school divisions, serving approximately 17,400 students in 43 schools. We are proud to be an integral part of our communities, including Sherwood Park, Fort Saskatchewan, Vegreville, Strathcona and Lamont counties, and the western portion of the County of Minburn.
–30–
For more information contact:
Laura McNabb, Director, Communication Services, EIPS 780-417-8204 cell 780-405-4902