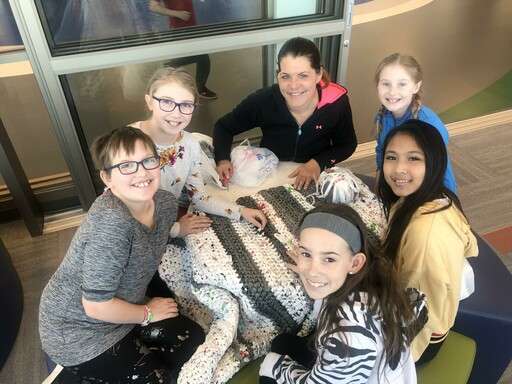 Sherwood Park, AB. — The cold weather is keeping many students inside during recess, but the Grade 6 students at Davidson Creek Elementary aren't letting it get them down. In fact, they're using their time indoors to spread hope and warmth to those who need it most, by helping to create blankets out of recycled materials for Edmonton's homeless population.
"I like doing it, because we're helping people by giving them comfort and warmth," says Joe Bremner, a Grade 6 student at Davidson Creek Elementary. "The blankets are fun to make, and it feels good to reuse plastic bags to make something useful for those in need." With the help of Leanne Hughes, a parent and volunteer supervisor at Davidson Creek Elementary, the students are turning shopping bags into spools of plastic yarn. Hughes then crochets blankets out of the yarn and delivers the final products to the Hope Mission, a local organization that provides food, shelter and other supports for Edmonton's homeless population.
While plastic may seem like an unconventional choice when it comes to keeping warm, the blankets the students create are warm, soft, durable and easy to clean. What's more, they're multi-purpose, and can be used as clean sleeping mats or blankets, depending on the need. The process of breaking the bags down into yarn can be time-consuming, but the team of eager volunteers have been able to streamline the process and increase their production of the blankets during the latest cold snap.
"Leanne has the amazing talent of being able to spread hope to those who need it most," says Kaye Schindeler, Principal of Davidson Creek Elementary. "She's been able to spread that attitude of hope and responsibility to our students and inspire them to follow her example." Already, the students have helped craft two, full-sized blankets out of the plastic yarn. Far from getting bored of the process, the creation of these blankets has become a full-time hobby for many of the students, at school and at home. Together, Hughes and the Grade 6 classes have created enough yarn to keep blanket production going for the rest of the winter, and even have a stockpile of material ready for next year.
Davidson Creek Elementary serves approximately 520 students in kindergarten to Grade 6 offering a French Immersion program supported by the fine arts, and is one of 43 schools within Elk Island Public Schools. More information about the school is available at www.davidsoncreekelementary.ca.
–30–
For more information contact:
Laura McNabb, Director, Communication Services, EIPS 780-417-8204 cell 780-405-4902