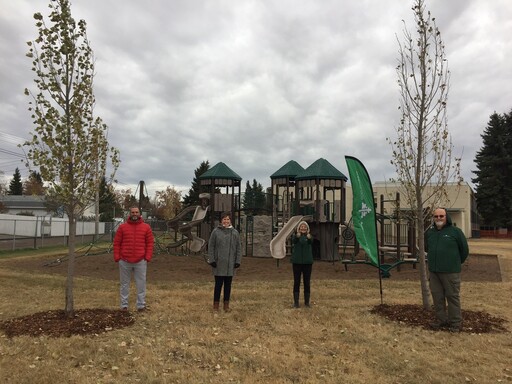 Sherwood Park, AB. — École Parc Élémentaire will look a little greener from now on, thanks to seven new trees planted on the school grounds this week. The additions to the landscape are thanks to a grant from Tree Canada, a national non-profit group dedicated to planting trees in rural and urban areas across the country.
Over the summer, École Parc Élémentaire's school council got in touch with Tree Canada to apply to be one of the locations to receive the green-treatment after identifying a need to further develop the school's outdoor spaces. Tree Canada was more than happy to oblige, and after partnering with Pembina Pipeline Corp. to sponsor the project, sent seven adolescent Sundancer poplar trees to the school. The school council's role didn't end when they applied for the grant. Jake Currie, the owner of a local landscaping company, worked with the school to plant the trees using specialized equipment.
"It makes me happy to be outside with the trees," says Madeleine Dechaine, a Grade 5 student at École Parc Élémentaire. "They help me breathe and make me feel calmer."
Though it's a bit late in the season for the trees to showcase their full splendour, by next spring, they'll begin to flourish, providing shade, perches for animals and countless learning opportunities. The trees will continue to grow with the school—filling out and reaching higher as they settle into their new home over the next several years.
"We're so thankful to the school council, Tree Canada and Pembina, for arranging this," says Dan Verhoeff, the principal of École Parc Élémentaire. "Projects like this one are so important in developing our school grounds as outdoor learning spaces and adding a degree of natural beauty to our community that we can all be proud of."
École Parc Élémentaire is a Kindergarten to Grade 6 school serving approximately 300 students offering a French Immersion program. Located in Fort Saskatchewan, the school is one of 43 schools within Elk Island Public Schools. More information about the school is available at www.ecoleparc.ca.
–30–
For more information contact:
Laura McNabb, Director, Communication Services, EIPS 780-417-8204 cell 780-405-4902