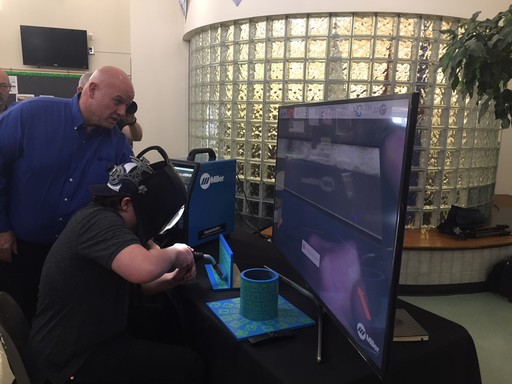 Sherwood Park, AB. — Students from Fort Saskatchewan High will soon have access to a new state-of-the-art trades centre, thanks to an innovative partnership between Elk Island Public Schools (EIPS) and Shell Canada. The two organizations are teaming up to launch a new Shell Skills Centre at Fort Saskatchewan High.
"We're so excited about this project and this partnership because it illustrates what can be accomplished when organizations work together," says Trina Boymook, the Board Chair of EIPS. "The demand for comprehensive skills and knowledge is higher than ever. As such, we are committed to continually finding new ways to prepare our next generation. The new skills centre does exactly this. It allows us to upgrade our equipment with cutting-edge technology, enhance student learning and better position our learners for successful careers post-graduation—the implications are far-reaching."
Slated to open at the start of the 2018-19 school year and fully funded by Shell Canada, the $200,000 Shell Skills Centre allows Fort Saskatchewan High to introduce new courses and programming to students pursuing careers in the trades—particularly in welding and electro-technology. Some of the exciting features the Shell Skills Centre will boast include an augmented-reality training lab equipped with three Virtual Welder machines; eight electro-technology workstations; a 3D printer; and various industry-standard tools, circuit boards and electric motors.
"We're taking the learning and training process to the next level," says Jeff Spady, the principal of Fort Saskatchewan High. "The Shell Skills Centre is going to place students into an environment where they can learn real-life skills. Students can select the most appropriate equipment and tools for the different scenarios and complexity in a simulated and safe environment. That's a huge advantage for them. When they graduate, they'll have both the skills and experience needed to meet current industry demands."
Mentorship is also playing a leading role at the new Shell Skills Centre. Students enrolled in the program will have ongoing access to trade experts from Shell Canada such as welders and electricians, pipefitters and millwrights. Together with Fort Saskatchewan High teachers they will guide, train and expose students to real-life situations through hands-on learning with industry-standard equipment and mentors at the ready.
"Supporting education and developing local trades literacy is a major focus for our social investment program," says Doug Loree, the maintenance manager at Shell Scotford. "For us, this partnership with EIPS is about fueling the future generation of skilled trade workers in the industrial heartland. The new centre gives our youth more opportunities for hands-on learning experiences, helps meet our future demands, and creates educational and economic opportunity for our community—it's a win-win."
EIPS is one of Alberta's largest school divisions, serving approximately 17,150 students in 42 schools. We are proud to be an integral part of our communities, including Sherwood Park, Fort Saskatchewan, Vegreville, Strathcona and Lamont counties, and the western portion of the County of Minburn.
Shell Canada has been operating in Canada for over 100 years and employs more than 4,000 people across the country. Our business is providing energy to Canadians and people around the world, and we are one of the few truly integrated oil and gas companies in Canada. Learn more at www.shell.ca.
–30–
For more information contact:
Laura McNabb, director, Communication Services, EIPS 780-417-8204 cell 780-405-4902