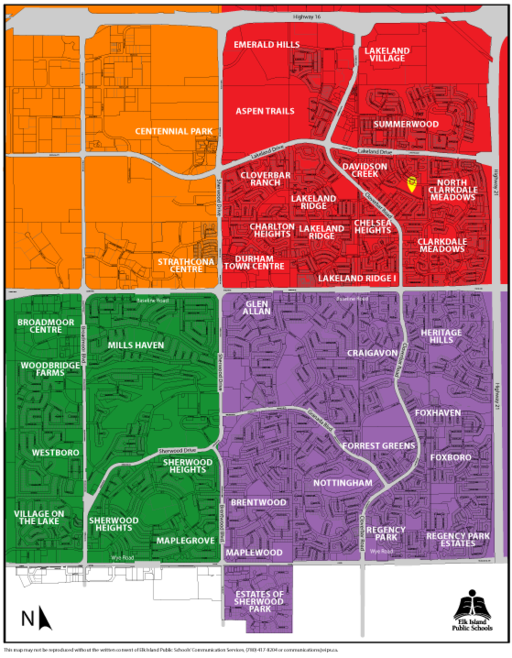 Sherwood Park, AB. — Elk Island Public Schools (EIPS) has begun the first phase of ​its public consultations to get family and community input on attendance boundaries for northeast Sherwood Park, including the new K-6 school opening in Davidson Creek.
In this first step of the process, the Division is looking for input from students, parents, staff and the community on what is important to them when establishing new boundaries. This input will inform the new attendance boundaries and help EIPS prioritize future processes and planning.
As the Division looks at the elementary attendance boundaries in the northeast quadrant of Sherwood Park, staff will also look at the junior high boundaries in the same area to determine where students of the new school will attend once they move to Grade 7.
Input collected during this phase of the process is being gathered through an online survey.
Survey Details:
Survey link:         Available at www.eips.ca
Survey opens:     Nov. 4, 2016
Survey closes:     Nov. 23, 2016
Division staff will use the input gathered through the first phase of consultations together with population and demographic information, school programming and demand for space within the area to begin developing possible attendance boundary options for elementary and junior high students in the northeast quadrant of Sherwood Park. In the new year, EIPS will go back out to the community for a second phase of consultations to gather feedback on these proposed boundary-map options.
The public consultation process and data analysis will lead to a recommendation for new boundaries coming forward to the Board of Trustees for approval in spring 2017. The goal of the review is to establish updated elementary and junior high attendance areas. Approved boundary changes will take effect when the new school opens, which is scheduled to take place in fall 2018.
Additional information about the new school and the boundary update is available on the Division website at www.eips.ca/schools/newschoolsandmodernizations/sherwoodpark.
EIPS is one of Alberta's largest school divisions, serving approximately 17,100 students in 42 schools. We are proud to be an integral part of our communities, including Sherwood Park, Fort Saskatchewan, Vegreville, Strathcona and Lamont counties, and the western portion of the County of Minburn.
–30–
FOR MORE INFORMATION CONTACT:
Laura McNabb, director, Communication Services, EIPS 780-417-8204 cell 780-405-4902