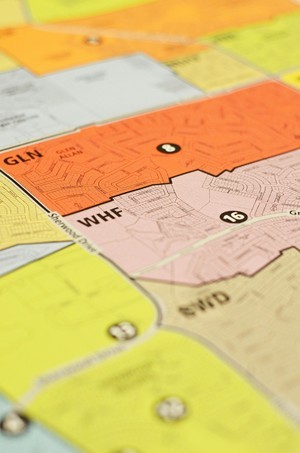 Sherwood Park, AB. — At today's Board meeting, Elk Island Public Schools (EIPS) Board of Trustees approved the attendance boundaries for the new K-6 school being built in the Davidson Creek area of Sherwood Park. Effective for the 2018-19 school year, the new attendance boundaries impact elementary and junior high students living in the northeast quadrant of Sherwood Park and area.
"The greatest enrolment pressure we're facing right now is at the elementary level in northeast Sherwood Park and at F.R. Haythorne Junior High," says Trina Boymook, the Board Chair of EIPS. "The new boundaries help ease these capacity issues, allow for growth in the southern portion of Sherwood Park and offer a healthy sense of community at each school."
Also at today's Board meeting, the Board approved the recommendation to allow grandfathering for all students in grades 6 and 9 living in the northeast quadrant of Sherwood Park during the 2018-19 school year—for these students, the sibling clause will not apply. The decision to allow grandfathering for these students is to minimize the number of transitions they would otherwise experience.
Additionally, to ensure the new school opens with sufficient enrolment, all students residing in the new school's attendance area are being redirected to the new school, effective for 2018. These students will not be permitted to apply for a boundary exemption to another school. The exception: Grade 6 students who opt to be grandfathered to their current school. For all other students living outside the new school's attendance area, boundary exemptions are being upheld. Similarly, students who want to apply for a boundary exemption in the 2018-19 school year—except those designated to the new school—can do so by following the 2018-19 boundary exemption request process.
"Overall, we're extremely pleased with the new elementary and junior high attendance boundaries," says Boymook. "In the fall, we started collecting feedback from the community about what they wanted incorporated into the new attendance area. Since then, we've heard from more than 2,200 people. And, what we approved today accommodates most of those concerns."
The approved attendance-boundary maps are available online at www.eips.ca. In the fall, families impacted by the new attendance boundaries will receive a letter in the mail to notify them what their new designated school is for the 2018–19 school year.
EIPS is one of Alberta's largest school divisions, serving approximately 17,100 students in 42 schools. We are proud to be an integral part of our communities, including Sherwood Park, Fort Saskatchewan, Vegreville, Strathcona and Lamont counties, and the western portion of the County of Minburn. 
Related Information:
Approved attendance-boundary maps
Information about the new school in Sherwood Park
–30–
For more information contact:
Laura McNabb, director, Communication Services, EIPS 780-417-8204 cell 780-405-4902