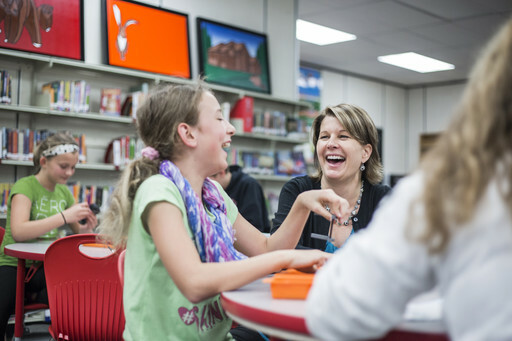 Sherwood Park, AB. — Students and staff across Elk Island Public Schools (EIPS) are showcasing the important role education plays in shaping their future as part of Education Week 2019, from April 29 to May 3.
Led by the Alberta Teachers' Association and Alberta Education, Education Week is an annual event celebrated by school communities provincewide. The week is meant to highlight the innovative learning taking place in schools throughout Alberta. This year's theme: Learning is a journey.
"Education Week offers us a chance to take a step back and celebrate the role education plays in shaping the communities we serve," says Trina Boymook, the Board Chair at EIPS. "Every day, our students develop as learners with the potential to improve their communities with their ever-evolving skills, knowledge and creativity. Each experience they have in school is a small step in their ongoing learning journey."
Over the course of the week, various activities are planned in schools throughout the Division including school assemblies, student performances, educational-themed games, writing assignments on the role education plays in building future generations, related art projects, buddy sharing and leadership-based assignments.
Members of the media are invited to contact EIPS Communication Services to book an interview or to attend one of the Division's Education Week activities.


EIPS is one of Alberta's largest school divisions, serving approximately 17,150 students in 43 schools. We are proud to be an integral part of our communities, including Sherwood Park, Fort Saskatchewan, Vegreville, Strathcona and Lamont counties, and the western portion of the County of Minburn.
–30–
For more information contact:
Laura McNabb, Director, Communication Services, EIPS 780-417-8204 cell 780-405-4902