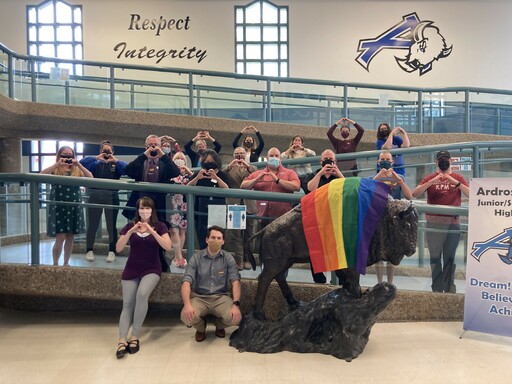 Sherwood Park, AB. — Schools throughout Elk Island Public Schools (EIPS) are celebrating Pride Week, June 14-18.  Organized annually, it's an opportunity for students and staff to celebrate diversity and inclusion and, at the same time, show support and raise awareness for the LGBTQ2S+ community.
"EIPS is committed to providing students and staff with positive and respectful educational spaces," says Trina Boymook, EIPS Board Chair. "Sadly, LGBTQ2S+ children and youth are frequent targets of marginalization and discrimination. Pride Week gives us a chance to understand what we have in common and what makes us different, and to celebrate and embrace that remarkable diversity. When everyone within EIPS feels safe and supported in a healthy, inclusive and welcoming learning environment, we know students experience greater success in the classroom and in life."
Throughout EIPS, various activities are planned for Pride Week 2021—all aimed at celebrating the Division's diverse community and making EIPS a welcoming, inclusive, respectful and safe place. Some of the activities include:
Next Step Fort Saskatchewan: Students will paint heart-shaped rocks, using the Pride flag colours. Once complete, the school will add the rocks to Fort Saskatchewan's Rock Snake Project, a community art project that winds throughout the city. As well, staff and students plan to post supportive messages on social media using the hashtag #randomactsofpride.
Lamont High: Staff and students are wearing Pride temporary tattoos, pronoun stickers and colouring sheets to show support for Pride Week 2021.
Rudolph Hennig Junior High: Earlier this month, students created a slideshow featuring artwork by Megan Tipler, a local artist, which showcases inspirational Canadians from the LGBTQ2S+ community. Now complete, the school's airing the slideshow on its TVs all weeklong. Students also created a bulletin board to highlight the LGBTQ2S+ icons featured in the slideshow.
SouthPointe School: Each day, students and staff are wearing a specific colour of the Pride flag and learning what each colour represents. Students are also creating artwork to display on the school bulletin boards throughout the week.
Bev Facey Community High: The school's gay-straight alliance, Facey Spectrum, is hosting various events and efforts to celebrate Pride Week, including a Pride button and sticker sale and Wear Your Pride Day. The group also created posters, displayed throughout the school, that feature information about the history of Pride Week, contributions of black trans women and how Pride relates to National Indigenous History Month to honour the two-spirit community.
Ardrossan Junior Senior High: Students are organizing activities and events in celebration of Pride Week, including morning music broadcasts featuring queer playlists, queer-history vignettes during the morning announcements, heart Pride stickers, sidewalk art displaying drawings and positive messages. The school also installed posters created by local artist, Megan Tipler, to showcase inspirational Canadians from the LGBTQ2S+ community.
Fort Saskatchewan High: Throughout the school, bulletin boards feature information, resources and artwork supporting Pride Week. Students also plan to host a rainbow cupcake event on Wednesday at noon.
Salisbury Composite High: To celebrate the week, the school's featuring a new section in its morning announcement entitled, "LGBTQ2S+ History and Heroes." The school also plans to post these on its Instagram page. As well, Salisbury's gay-straight alliance has various events planned, including an Outdoor Wednesday event and a Pride Celebration Day, where staff and students wear a colour from the Pride flag.
Vegreville Composite High: Throughout the week, staff and students are showing support for Pride Week by flying the Pride flag and wearing Pride stickers, buttons and temporary tattoos. Students also gifted the local business community with miniature Pride flags—now on display in windows throughout the town. Most impressive, students wrote statements to Vegreville council about what Pride Week means to them. As a result, town council decided to fly a Pride flag on its building to recognize the week—the first time it has done so.
Elk Island Public Schools is one of Alberta's largest school divisions, serving approximately 17,000 students in 43 schools. We are proud to be an integral part of our communities, including Sherwood Park, Fort Saskatchewan, Vegreville, Strathcona and Lamont counties and the western portion of the County of Minburn.
–30–
For more information contact:
Laura McNabb, director, Communication Services, EIPS 780-417-8204 cell 780-405-4902