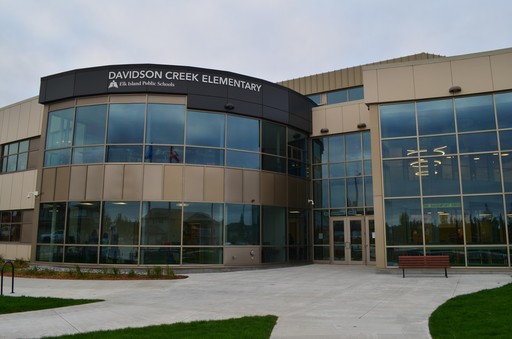 Sherwood Park, AB. — Representatives of the media are invited to join Elk Island Public Schools (EIPS) as it hosts the grand opening ceremony of Davidson Creek Elementary on October 19.
The ceremony includes greetings from local dignitaries including Trina Boymook, the Board Chair of EIPS; Elder Wilson Bearhead; David Eggen, Alberta's education minister; and Rod Frank, the mayor of Strathcona County. Other highlights include a plaque presentation from the Government of Alberta; reflections from the school's principal, Kaye Schindeler; and student performances.
"This is truly a community school where our students and their families are welcome," says Schindeler. "It is a privilege to be able to look at new, non-traditional ways of learning, and I hope the students are excited about all of the unique features this schools can offer them. In particular, the natural light throughout the school is immensely beneficial."
On Sept. 4, 2018, the new facility opened with more than 4,721 square metres of space over two storeys and a student capacity of 600. Other features include state-of-the-art classrooms with floor to ceiling windows, breakout spaces, a learning commons in the heart of the building and LEED Silver designation ensuring environmental efficiency.
"We have created a place where students will grow and learn; they will ask questions, seek answers and gain the knowledge that will prepare them for a lifetime," says Boymook. "The new school will build our students, build our community and build future generations."
Event Details: Grand Opening Ceremony
Date:         Oct. 19, 2018
Time:         1:30 p.m. to 3:30 p.m.
Location:   360 Davenport Drive, gymnasium, Sherwood Park, AB
Photo op:   Government of Alberta presenting official school plaque to the EIPS Board of Trustees and school representatives.
Board Chair Trina Boymook, Alberta's Education Minister David Eggen, MLA Estefania Cortes-Vargas, Mayor Rob Frank, Elder Wilson Bearhead, school officials and students may be available for photos and interviews.
NOTE: Principals have the responsibility to limit media coverage only to students approved for interviews. Reporters attending the event are requested to receive permission from a school EIPS representative before interviewing or photographing students. Thank you for your co-operation, and for joining us.
Davidson Creek Elementary serves more than 500 students in kindergarten to Grade 6 and is one of 43 schools within Elk Island Public Schools. More information about the school is available at www.davidsoncreekelementary.ca.
–30–
For more information contact:
Laura McNabb, Director, Communication Services, EIPS 780-417-8204 cell 780-405-4902