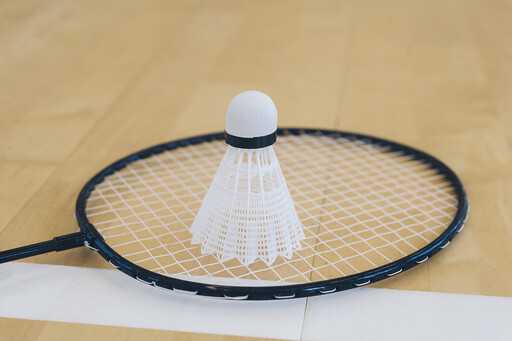 Sherwood Park, AB. — Media, families and community members are invited to join elementary students from Elk Island Public Schools (EIPS) as they go head to head during the inaugural EIPS Elementary Badminton Tournament May 4. "Badminton is a great sport, and I'm excited to represent my school in the competition," says Zachary Russell, a Grade 6 student at Brentwood Elementary. "Hopefully we'll be the ones to bring home the gold medal."
Close to 80 students in grades 4 to 6 are expected take part in the tournament—all competing for the prestigious gold medal. The tournament includes categories for boys and girls singles, doubles and mixed doubles, allowing for a large number of student athletes from each school. Participants in each category will first compete using a round-robin format, followed by a single-elimination knockout round for the semi-finals and finals.
"We've already seen very successful elementary-level basketball and volleyball tournaments within our Division," says David Roper, the assistant principal of Brentwood Elementary and one of the tournament organizers. "There has been a lot of interest in expanding our elementary network to include tournaments that highlight other sports. The more sports we're able to highlight through inter-school competition, the more students will be able to get comfortable with team sports and pursue it in junior and senior high where they otherwise might not have."
Schools competing in the EIPS Elementary Badminton Tournament include Brentwood Elementary, Davidson Creek Elementary, Fort Saskatchewan Elementary, Fultonvale Elementary Junior High, James Mowat Elementary, Strathcona Christian Academy Elementary and Uncas Elementary. The top three athletes and teams in each category will receive a commemorative medal.
Event Details:
Date:               May 4, 2019
Time:               9 a.m. to 4 p.m.
Location:       Salisbury Composite High; 20 Festival Way.; Sherwood Park
NOTE: Principals have the responsibility to limit media coverage only to students approved for interviews. Reporters attending the event are requested to receive permission from a school EIPS representative before interviewing or photographing students. Thank you for your co-operation, and for joining us.
EIPS is one of Alberta's largest school divisions, serving approximately 17,150 students in 43 schools. We are proud to be an integral part of our communities, including Sherwood Park, Fort Saskatchewan, Vegreville, Strathcona and Lamont counties, and the western portion of the County of Minburn.
–30–
For more information contact:
David Roper, Assistant Principal, Brentwood Elementary, 780-467-5591
Laura McNabb, Director, Communication Services, EIPS 780-417-8204 cell 780-405-4902