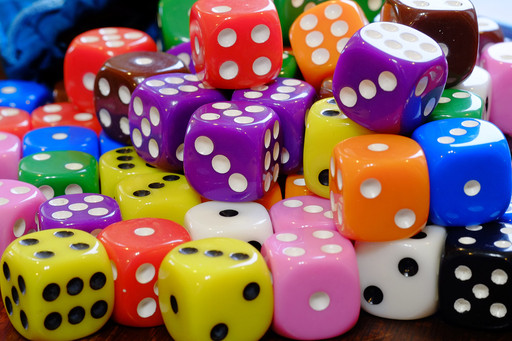 Sherwood Park, AB. — Reading at home with your kids has become widely accepted as a strategy for improving literacy. It's a simple task, and sharing a story with your child can be a lot of fun. Math literacy, or numeracy, doesn't always get the same attention. Woodbridge Farms Elementary and Ardrossan Elementary are taking steps to change that, thanks to a pair of fun-filled evenings called Box Cars and One-Eyed Jacks Family Math Night.
While the name sounds complicated, the concept is simple: after classes end for the day, families and students return to school to learn math games that they can also play at home together. The evenings are led by learning facilitators from Box Cars and One-Eyed Jacks, an Edmonton-based educational game company.
"Games provide an opportunity for students to strengthen their mathematical understanding and develop their computation skills," says Barb Percy, a Numeracy Consultant at Elk Island Public Schools. "What's more, they can facilitate a school-to-home connection where parents can share and understand their child's mathematical thinking."
Using simple and affordable objects, such as dice and playing cards, the facilitators show families and students a variety of fun and engaging games. But instead of simply passing the time on a rainy day, these games are designed to reinforce concepts such as basic number sense, number recognition, place value and problem solving. There are different games for each grade level and each provides a fun challenge for the students.
"The games that we focus on will help develop foundational math skills that students need throughout their schooling and throughout their lives," says Andy Cunningham, the Principal of Woodbridge Farms Elementary. "The more we can bring math into the home and show kids that it's everywhere, not just in school, the more successful they're going to be moving forward in life."
Family Math Night is only one of the options that Box Cars and One-Eyed Jacks offers to help bring numeracy into the home. Adult-only nights are also offered, where adults can get a crash course on a wider variety of games to bring home to their children. 
EIPS is one of Alberta's largest school divisions, serving approximately 17,100 students in 43 schools. We are proud to be an integral part of our communities, including Sherwood Park, Fort Saskatchewan, Vegreville, Strathcona and Lamont counties, and the western portion of the County of Minburn.
–30–
For more information contact:
Barb Percy, elementary numeracy consultant, EIPS 587-987-3078
Laura McNabb, director, Communication Services, EIPS 780-417-8204 cell 780-405-4902