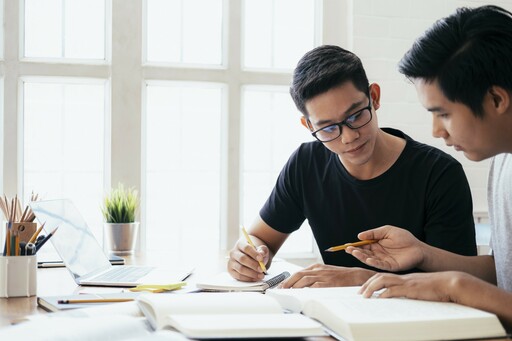 Sherwood Park, AB. — Current Grade 9 students choosing to attend either Salisbury Composite High or Bev Facey Community High next year can learn more about enhancing their academic standing and giving themselves a competitive post-secondary advantage by attending information sessions on the Advanced Placement (AP) Program and the International Baccalaureate (IB) Programme.
Bev Facey's Advanced Placement courses provide academic rigour so students are prepared for post-secondary. The program provides enriched and challenging courses that parallel and expand on the material covered in Alberta Education's academic course streams. Flexibility is one of the key tenets of the program allowing students to take full AP course loads or individual courses based on student interests and strengths. Program exams are held in May of either the student's Grade 11 or 12 year to align with applications for post-secondary institutions.
"We're proud to offer this internationally recognized program to our students," says Cherum Orr, Assistant Principal and AP Co-ordinator at Bev Facey Community High. "Through the program, students at Bev Facey can push themselves to greater heights, and stand out among the competition in the post-secondary application process."
The AP Capstone Diploma is a new part of the Advanced Placement program—and Bev Facey is the only high school in the Elk Island area offering Capstone. Run in tandem with regular AP course offerings, the goal is for students to enhance their understanding of the various concepts they're learning across all their classes, find connections and apply their knowledge with a global context in mind. More information about Bev Facey's AP Capstone Diploma and the Advanced Placement program overall is available at bevfacey.ca.
The IB Programme at Salisbury is founded on the IB mission to develop inquiring, knowledgeable and caring young people who help to create a better and more peaceful world through intercultural understanding and respect. The IB programme offers a challenging international education with rigorous assessment, and encourages students to become active, compassionate and lifelong learners. 
"The IB Programme helps promote independent thinking and encourages students to navigate their own learning path," says Michelle Wyman, the IB Co-ordinator at Salisbury Composite High. "Being involved in IB can help smooth a path to some of the best post-secondary institutions in the world."
Students who register for IB at Salisbury have the flexibility to pursue the full IB programme or to select from the IB courses offered. In addition, students complete enriching IB projects within each course and write the IB exams in May in their Grade 12 year. A comprehensive overview of the Salisbury IB Programme is available in in Salisbury's IB handbook.

Advanced Placement Open House & Post-Secondary AP Information Session:
Date: Jan. 30, 2020
Time: 6 p.m. to 7:30 p.m.
Location: Bev Facey Community High, Banner Gymnasium, 99 Colwill Blvd., Sherwood Park
International Baccalaureate Programme Info Session:
Date: Feb. 5, 2020
Time: 7 p.m. to 8 p.m.
Location: Salisbury Composite High, Theatre, 20 Festival Way, Sherwood Park
EIPS is one of Alberta's largest school divisions, serving approximately 17,400 students in 43 schools. We are proud to be an integral part of our communities, including Sherwood Park, Fort Saskatchewan, Vegreville, Strathcona and Lamont counties, and the western portion of the County of Minburn. To learn more visit www.eips.ca.
–30–
For more information contact:
Laura McNabb, Director, Communication Services, EIPS 780-417-8204 cell 780-405-4902