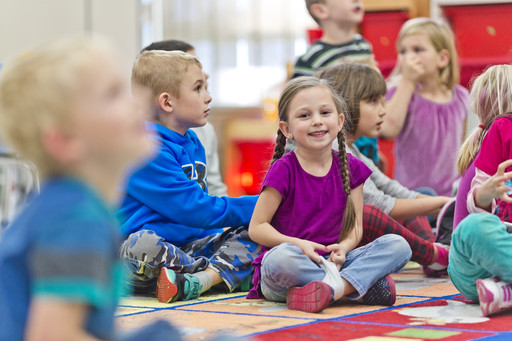 Sherwood Park, AB. — Kindergarten registration starts for the 2018-19 school year on Jan. 15, 2018. Families who have a child turning five on or before Dec. 31, 2018 are invited to register for the next school year by completing the online form at www.eips.ca.
Registration officially opens at 6 p.m. on January 15—the same as Elk Island Catholic Schools—to accommodate parents and guardians who work during the day. Prior to registering, families are encouraged to view the 2018-19 Kindergarten Calendar. Two kindergarten schedules are available for the 2018-19 school year, Group A and Group B. When registering online, families can indicate what option they prefer. While EIPS attempts to accommodate each family's preference, placement depends on enrolment numbers.
Steps to registering your child:
Complete the online registration form.
Determine your child's designated school.
Determine your 2018-19 Kindergarten Calendar option preference.
Scan and upload all required documents—proof of name, residence, date of birth and citizenship.
Other additional documents to scan, if applicable, include: Guardian Letter and Parental Custody Agreement if restrictions on access.
Once the online registration is complete and submitted, a confirmation notice is sent to the given email address.
All registrations for the 2018-19 school year must be completed online—printed registrations are no longer available.
To help families prepare, Elk Island Public Schools (EIPS) has also put together an online toolkit to make the transition as smooth as possible. The kit includes information on registration, important dates, programming options, what to expect, eligibility, how to find your designated school, transportation and more. Find it by visiting www.eips.ca/programs-services/kindergarten.
Additional information regarding kindergarten such as the information night, programming, and start times and end times can be found on each individual school website.
NOTE: Kindergarten calendars for the Alternative Christian programs have some minor differences. These calendars will be made available online the week of Jan. 15, 2018.
EIPS is one of Alberta's largest school divisions, serving approximately 17,100 students in 42 schools. We are proud to be an integral part of our communities, including Sherwood Park, Fort Saskatchewan, Vegreville, Strathcona and Lamont counties, and the western portion of the County of Minburn.
–30–

For more information contact:
Laura McNabb, director, Communication Services, EIPS 780-417-8204 cell 780-405-4902