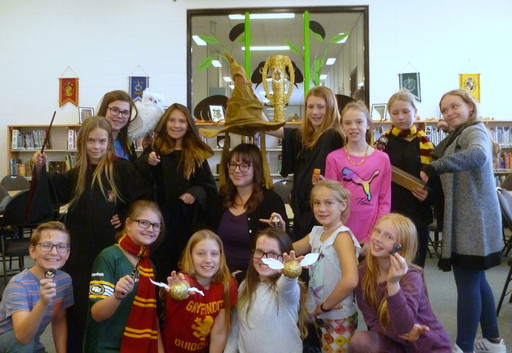 Sherwood Park, AB. —Canadian School Library Day – marked on October 22 – provides Elk Island Public Schools (EIPS) with an opportunity to celebrate the hard work of our school librarians. With all the digital distractions facing them these days, getting students to fill their free time with books can seem like a challenge. But most librarians would tell you that children's interest in books hasn't faded, you simply need the right touch to bring it out. Just ask Stephanie Gauchier, the librarian at Glen Allan Elementary – for the last four years, she's been creating programs that instil a love of reading not only within her own school, but throughout the division as well.
Since first coming to Glen Allan, Stephanie has had no shortage of ideas when it comes to engaging her students. One of her early successes was inspired by her own experiences reading the Harry Potter series as a child. Every year, Stephanie sorts students into one of four houses that they will represent during their time at Glen Allan. Just like in Harry Potter, each house can receive points throughout the year, except instead of being rewarded for their prowess in magic, Glen Allan students receive points for proper library behavior, respect throughout the school and succeeding in special literacy challenges. By the end of the year, the winning house collects a special trophy.
For a book series that originally launched 21 years ago, Harry Potter hasn't lost its ability to stir the imagination of young readers. "Students love the program because they've developed a love for the books as well," says Stephanie. "This series is really what lit the spark of reading for me as a child, so to see their enthusiasm for J.K. Rowling's series is really special and something we can share."
Another library program that has been a runaway success is the annual Battle of the Books. Each year, students are challenged to read six assigned books, ranging from children's classics to contemporary bestsellers. In March, they compete with one another to answer trivia questions about what they've read, building reading comprehension and information recall skills along the way. When Stephanie started the Battle of the Books four years ago, it included only three grade levels at her school, but the popularity of the program couldn't be contained. Stephanie has since teamed up with school librarians from across the Division and this year, enthusiastic students from 14 schools are signed up to compete for the much-coveted Battle of the Books prize.
The key to Stephanie's success has been her willingness to try different ideas. "Not all of my ideas work with students, but I think it's important to keep trying to engage with them in new and interesting ways," she says. "I couldn't do it without the support of the staff here. They really work with me to make these programs a success."
Stephanie's literacy programming is one great example of the innovative thinking happening in libraries all across the Division. Thank you to all of the librarians throughout Elk Island Public Schools, for all of your hard work and dedication.
Glen Allan Elementary serves approximately 400 students in kindergarten to Grade 6 and is one of 43 schools within Elk Island Public Schools. More information about the school is available at www.glenallanelementary.ca.    
–30–
For more information contact:
Laura McNabb, director, Communication Services, EIPS 780-417-8204 cell 780-405-4902