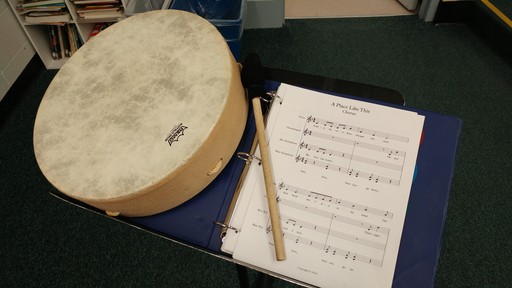 Sherwood Park, AB.—There's a new song that is set to become a regular feature of music classes, band practices and celebrations across the Division. It's called A Place Like This, and it's the product of a special songwriting project of more than a dozen music teachers from Elk Island Public Schools (EIPS). Under the guidance of Elder Wilson Bearhead, they have created a song that celebrates a shared identity, diversity and the lands of Treaty 6.
The project started with a simple comment made by Elder Bearhead last year. He mentioned it could be powerful for the Division's schools to have a song to link them together with a common identity. Inspired by his words, music teachers from different schools started talking about ways to turn Elder Bearhead's thought into a reality. Three writing sessions and countless emails later, a song was crafted celebrating Treaty 6 territory and all who live within the region.
The song's lyrics, co-written by Elder Bearhead, are a mixture of Nakota and English, and celebrate a shared status as treaty people. It acknowledges the land and the waterways that link everyone together, and calls upon every person to treat each other with love and respect. "When it comes to music, we can use the same material to create meaningful lessons for students at all different grade levels," says Courtney Richard, a music teacher at Westboro Elementary. "Music connects with the heart, and creates understanding on a deep level."
Already, music teachers from outside EIPS are asking if they too can use the song in their classrooms. "We decided to make the song itself open-source, so anyone outside the Division can use it," says Richard. "The song is about people coming together in friendship, so to do anything else would go against the spirit of what we're communicating."
The song is free to use and comes with an accompanying lesson plan, developed by EIPS music teachers. The lesson ensures the context and meaning of the song is shared as it spreads. Next year, the Division plans to translate the melody into a band arrangement for junior and senior high students and create a French and Nakota version for francophone schools.
In line with Elder Bearhead's vision, students across the Division and Treaty 6 territory, no matter their age or background, will be united by a common identity, all singing and celebrating the fact that, as the song says, "Nowhere in the world has a place like this."


EIPS is one of Alberta's largest school divisions, serving approximately 17,150 students in 43 schools. We are proud to be an integral part of our communities, including Sherwood Park, Fort Saskatchewan, Vegreville, Strathcona and Lamont counties, and the western portion of the County of Minburn.
–30–
For more information contact:
Laura McNabb, director, Communication Services, EIPS 780-417-8204 cell 780-405-4902