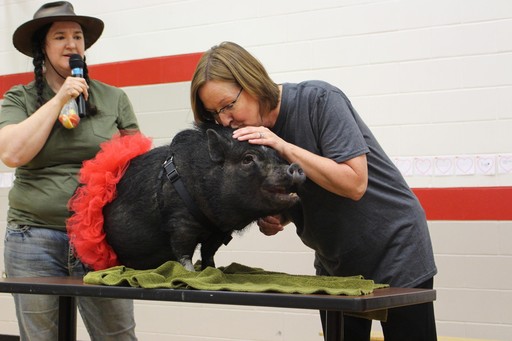 Sherwood Park, AB. — Students from Fort Saskatchewan Elementary got an unlikely surprise during a school assembly earlier today. Their principal, Sandra Sorochan, along with assistant principal Jim Gerwing and teacher Alfred Yung, delivered on a promise to kiss a pig if students raised $1,000 for the Heart and Stroke Foundation. "I didn't think they were going to do it, but they did and we couldn't believe it," says Elizabeth, a Grade 6 student at Fort Saskatchewan Elementary. "They did it to show us they keep their promises and to thank us for all the work we did to raise money for heart research."
In February, the school participated in the Jump Rope for Heart program, a national awareness campaign spearheaded by the Heart and Stroke Foundation aimed at teaching elementary students about heart health and healthy living habits. Over a two-week period, students learn about children living with serious heart issues, preventive measures, and the importance of eating well and physical activity. They also collect pledges to raise money for the foundation and organize various jump rope events for the school to enjoy.
"The program incorporates lessons around healthy habits, social responsibility and helping others in the community," says Sorochan. "They quickly learn how fortunate they are to have their health and the support of their families. The key take-a-way for students is they see first-hand they can help others and can make a difference."
Within the first few days of the program, students had already surpassed their initial goal of raising $1,000 and decided to aim for $4,000—a number they ended up more than doubling by raising an impressive $8,731. The school will donate all collected monies to the Heart and Stroke Foundation to fund future research. Looking ahead, the school hopes to make the Jump Rope for Heart an annual event—although kissing a pig may be a one-time promise. "It wasn't too bad and kids certainly all got a kick out of it," says Sorochan. "I don't know about next year though, maybe we'll shave our heads."
Congratulations to all the students and staff at Fort Saskatchewan Elementary.
Fort Saskatchewan Elementary is a kindergarten to Grade 6 school serving approximately 350 students and is one of 42 schools within Elk Island Public Schools. More information about the school is available at www.fortelem.ca.
—30—