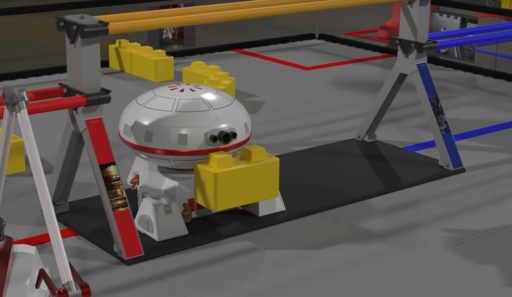 Sherwood Park, AB. — Students from Bev Facey Community High are gearing up to compete in this year's FIRST Tech Challenge Alberta Championship, an international robotics competition for students in both junior high and senior high.
On March 7-8, students from Bev Facey's Cyberflex team will join roughly 250 students, in grades 7-12, from across the province at the Telus World of Science in Edmonton. There, they will design, build, program and operate a robot—complete with sensors, motors, gears and software—to compete in an alliance format against other Alberta-based teams.
"Students have worked really hard designing, improving and modifying their robots," says Michelle Langlois, a robotics teacher at Bev Facey Community High. "What makes the competition so great is on top of coding, designing and building, it forces learners to constantly problem-solve, make adjustments and communicate with others—essential skills in today's information technology sector."
Throughout the competition, each team works with their robot in an alliance with another team playing a game called, Skystone. The goal: to score more points than the opponent. Points are scored by the robot moving blocks, or stones, into a building zone and placing them on a foundation to form a skyscraper. During the first 30 seconds, robots are operated in an autonomous period using pre-programmed instructions. It then moves to a two-minute driver-controlled period. Then, in the last 30 seconds, students compete in the end-game where they place specific stones, the capstones and a skystone, on the skyscraper for added scoring opportunities.
"The competition requires an enormous amount of time, planning and problem-solving. In fact, we've had to redesign our robot completely, and now I think we're ready," says Dominic World, a Grade 10 student at Bev Facey and a member of the school's Cyberflex team. "What I like most about it is being able to use my hands and my brain to solve problems and create new things. For provincials, our goal is to beat our previous score, and make connections with other teams for next year."
In total, 15 FIRST Tech Challenge awards are up for grabs—ranging in category from the Motive Award to the Program Award to the Inspire Award to the Design Award. Both the top team and the team handed the Inspire Award will advance to the FIRST World Tech Challenge in Houston, taking place in April.
Congratulations to all the Bev Facey students competing in the 2020 FIRST Tech Challenge Alberta Championship. And, good luck!
Elk Island Public Schools is one of Alberta's largest school divisions, serving approximately 17,400 students in 43 schools. We are proud to be an integral part of our communities, including Sherwood Park, Fort Saskatchewan, Vegreville, Strathcona and Lamont counties, and the western portion of the County of Minburn.
–30–
For more information contact:
Laura McNabb, Director, Communication Services, EIPS 780-417-8204 cell 780-405-4902