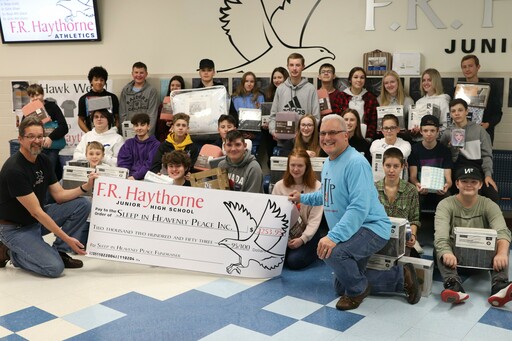 Sherwood Park, AB. — At the end of a long day, there's no greater reward than curling up into a warm bed. It's a simple pleasure that's easy to take for granted. But there are many children in our own communities who don't have access to proper beds and spend most nights sleeping on couches, blankets or even the bare floor. Three Division schools are taking steps to change this reality, however. Bev Facey Community High, F.R. Haythorne Junior High and Strathcona Christian Academy Secondary have partnered with a local charity called Sleep in Heavenly Peace – Strathcona (SHP) and together, they're working to get children off the floor and into their very own beds.
After getting in contact with SHP and learning about the sleeping conditions faced by many families, the construction classes at Bev Facey and Strathcona Christian Academy agreed to turn their construction labs into bed-producing workshops to help the charity meet demand. Both schools pledged to build 60 beds, and under the guidance of their construction teachers, students of all grade levels got to cutting, routing and sanding bedframes, and bundling the finished pieces for delivery.
While the original agreement called only for the schools to construct the beds, many students came to realize they wanted to help with the assembly as well and travel to the homes of clients to meet the children who they're helping. "Building these beds with my class made me realize how fortunate I am," says Sarah Weidmann, a Grade 12 construction student at Bev Facey. "I can't remember a time where I didn't have a bed with pillows and blankets to sleep on. These families who are having trouble meeting their basic needs are out there and we don't even realize it. By building these beds, I know we're helping to make a difference for these kids."
Of course, a bed isn't complete without bedding. That's where the efforts of F.R. Haythorne students come in. Guided by their Grade 9 student leadership group, students planned a school dance and game-a-thon to raise money to purchase bedding for SHP. Through ticket sales and donations, students were able to raise close to $2250, enough to purchase 44 sets of bedding for the charity. "The initiative students have shown in organizing this fundraiser is inspiring," says Erin Clark, an Assistant Principal at F.R. Haythorne. "They were responsible for all of it, from the initial planning, to the organizing and running of the events. We're so proud of what they've been able to accomplish."
Some beds have already been delivered to families, but there are many more on the way as the schools work to complete their quotas. The goal of SHP is to ensure one day, no child in Strathcona County will go to sleep without a bed, and judging by this partnership, they're off to a good start.
EIPS is one of Alberta's largest school divisions, serving approximately 17,400 students in 43 schools. We are proud to be an integral part of our communities, including Sherwood Park, Fort Saskatchewan, Vegreville, Strathcona and Lamont counties, and the western portion of the County of Minburn.
–30–
For more information contact:
Laura McNabb, Director, Communication Services, EIPS 780-417-8204 cell 780-405-4902