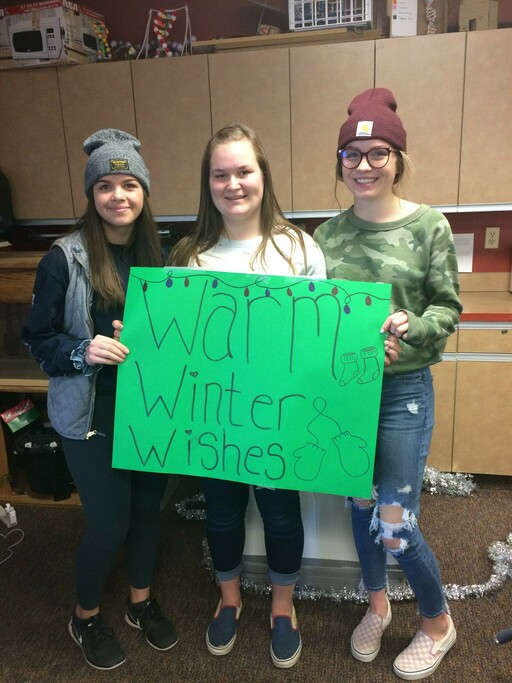 Sherwood Park, AB. —Three Division schools received sizable holiday grants to help students raise awareness about poverty in their local communities. Dentons Make Your Mark on Poverty, an initiative of United Way of the Alberta Capital Region, awarded $1,000 each to Next Step Sherwood Park, Salisbury Composite High and Strathcona Christian Academy Secondary to help fund projects that shine a spotlight on issues of poverty in and around Sherwood Park. Already, the schools have launched some creative projects—running throughout the winter—that are bringing both warmth and light to those who need it most.
Next Step Sherwood Park and Salisbury Composite High are teaming up and using the grant to fund a project called Digni-Tees: Exploring addiction and poverty through fashion. Students are learning about how poverty and addiction affect people in their community and then designing T-shirts to reflect the stories they've heard. Once the designs are complete, students will vote on the top shirts. Those that receive the most votes will be produced in bulk for sale, with profits going toward local charities. "This project encourages students to actually speak with people in the community who have dealt with poverty and addiction," says Kristian Basaraba, a teacher at Next Step and Salisbury Composite High. "It's important for them to learn these aren't far-away issues, and they can take steps to help out in their own community."
Similarly, the students at Strathcona Christian Academy Secondary are using their grant to fund a project called Warm Winter Wishes. Working with the local Mustard Seed, a local organization dedicated to reducing poverty and homelessness, students are collecting gloves, jackets, hats and other warm winter clothing items paired with a note of encouragement for people in need. The project originated from a group of senior high students and is entirely student run. The goal is to get the whole school involved through donations and campaigns to help stock the Mustard Seed's stores full of clothing for the winter. "We want students to support those in our community who are already actively engaged in eliminating poverty," says Matthias Cheung, a teacher at Strathcona Christian Academy Secondary. "Being able to partner with the Mustard Seed is a great way to raise awareness among students, not just of poverty in our area, but how to get involved and take steps to reduce it."
Strathcona Christian Academy Secondary students are sharing their progress on Twitter, @WishesWinterSCA.


EIPS is one of Alberta's largest school divisions, serving approximately 17,400 students in 43 schools. We are proud to be an integral part of our communities, including Sherwood Park, Fort Saskatchewan, Vegreville, Strathcona and Lamont counties, and the western portion of the County of Minburn.
–30–
For more information contact:
Laura McNabb, director, Communication Services, EIPS 780-417-8204 cell 780-405-4902