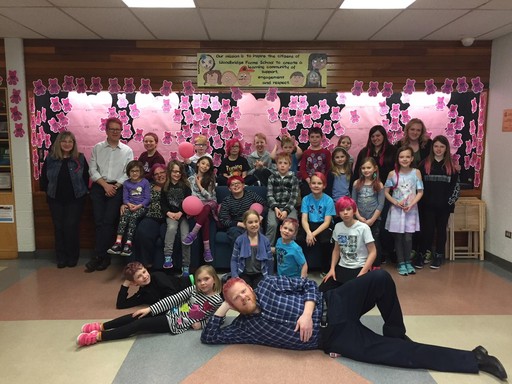 Sherwood Park, AB. — Things may be a bit chillier for staff and students at Woodbridge Farm Elementary. Earlier today, a team of 30 headed to West Edmonton Mall to shave their heads and donate hair. The reason: To take part in the 2018 Hair Massacure, an annual fundraising event to raise money and support for children who are facing cancer.
"I think my wife is more excited than I am, she has this idea I look like Captain Jean-Luc Picard without hair," says Sven Danzinger, the principal at Woodbridge Farms Elementary. "For me though, it's a reminder of how people feel when they lose their hair fighting cancer."
To coincide with the Hair Massacure, Woodbridge Farms Elementary also organized a fundraising campaign co-ordinated by the We Act team, a student-led group aimed at active citizenship and making a positive impact in the community. Over a four-week period, students sold hundreds of gold ribbons, pink hair stands and paper Kali Bears with the goal of raising $2,500—a number they more than tripled. In total, the school raised an impressive $11,000, which it's donating to the Alberta Cancer Foundation and the Children's Wish Foundation of Canada.
"It's quite remarkable how much we were able raise," says Danzinger. "It shows students that we can all help make a difference in this world, big or small. For us, that's incredibly important, particularly this year. Two of our students at the school are currently fighting cancer. So, this one definitely hits home for us."
In addition to Woodbridge Farms Elementary, several other Elk Island Public Schools participated in this year's Hair Massacure including École Campbelltown and Fort Saskatchewan Elementary. All proceeds are being used to help children with cancer or other life-threatening medical conditions.
Woodbridge Farms Elementary is a kindergarten to Grade 6 school serving approximately 460 students and is one of 42 schools within Elk Island Public Schools. More information about the school is available at www.woodbridgefarms.ca.
–30–
For more information contact:
Sven Danzinger, principal, Woodbridge Farms Elementary, 780-464-3330
Laura McNabb, director, Communication Services, EIPS 780-417-8204 cell 780-405-4902