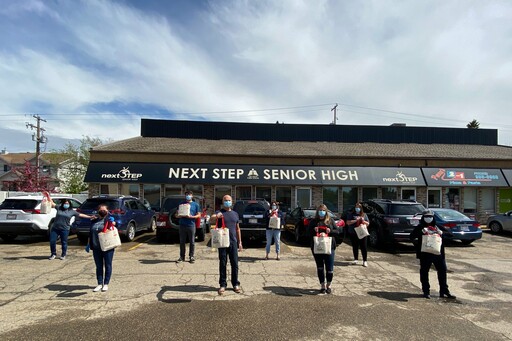 Sherwood Park, AB.— When the COVID-19 pandemic forced schools to close their doors, in-school initiatives like breakfast and lunch programs couldn't continue either. But the need among students to access healthy meals did not disappear. In fact, for those facing increasingly tight financial situations at home, the support that meal programs offer are more important than ever. The staff at Next Step in Sherwood Park and Fort Saskatchewan saw the opportunity for a creative solution: If students couldn't come to school for support, staff would send support to them instead.
Ever since schools closed back in March, the staff of Next Step have been taking note of the resources students have been unable to access from home, be it adequate food, school supplies, or just the opportunity to de-stress. Now, with the help of United Way of the Alberta Capital Region, they're putting a plan into action to deliver food and other items to students in need. As part of United Way's Heartland Challenge program, Next Step students were scheduled to participate in a variety of community-enrichment projects throughout the spring. Unfortunately, due to the pandemic, these projects had to be cancelled, but United Way was more than happy to re-direct funds to this new care package initiative.
"Empty stomachs and stressed minds are huge barriers to learning, whether you're in the classroom or at home," says Joe Clark, principal of Next Step. "We want to help students take down those barriers, so they can be successful no matter the situation they're in. We're grateful to United Way for their continued support in funding these care packages, especially during such a turbulent time."
Altogether, Next Step staff have created over 80 packages for students to receive in the coming days. The packages consist of non-perishable food items, toiletries, books, games and all manner of school supplies to help students make the most of learning from home. And in cases where students can't visit the school to pick up these packages themselves, teachers are ready to don their masks and deliver the packages personally. It will be an opportunity to connect, even at a distance, and offer kind words of encouragement, to remind students that even during a pandemic, kindness and support are never far away.
Elk Island Public Schools is one of Alberta's largest school divisions, serving approximately 17,400 students in 43 schools. We are proud to be an integral part of our communities, including Sherwood Park, Fort Saskatchewan, Vegreville, Strathcona and Lamont counties, and the western portion of the County of Minburn.
–30–
FOR MORE INFORMATION CONTACT:
Laura McNabb, Director, Communication Services, 780-417-8204