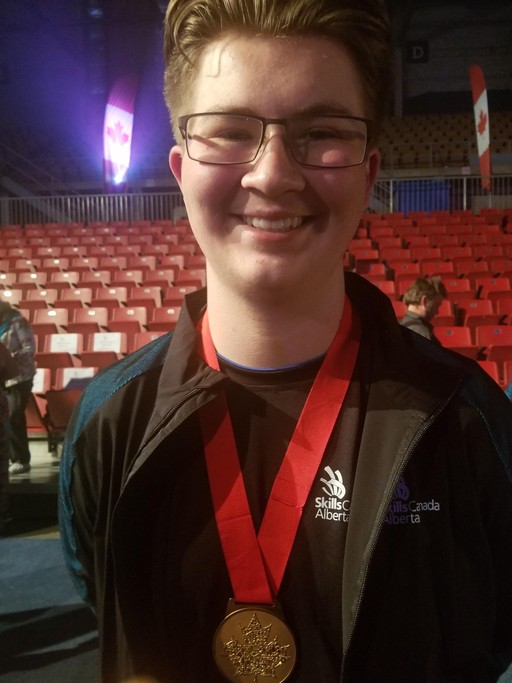 Sherwood Park, AB. — Andrik Jacobsen loves the detail and hard work that goes into cabinet making, from hand-cut dovetails to meticulous joints. It's that passion and precision that led him to a first-place finish at the 2018 Skills Canada National Competition (SCNC), on June 5-6. "The competition was really stressful," says Jacobsen. "But it was a great opportunity to show off what I can do and it was amazing to make my parents proud like that."
Jacobsen, a Grade 11 student at Bev Facey Community High—along with three other students from Elk Island Public Schools (EIPS)—recently competed in this year's SCNC. Over the course of two days, students were tasked with completing a challenge relevant to their respective trade. All completed projects had to meet industry standards and were then judged by a panel of experts. Despite fierce levels of competition, Jacobsen made it to the podium, taking home gold in the Cabinet Making category.
"Nearly 60 per cent of students will go on to work in the trades," says Steve Woodard, a career and technology studies teacher at Bev Facey Community High. "Skills competitions are important because they showcase that this isn't a talent or an anomaly, it's a skill that everyone can learn if they put in the time and effort."
Approximately 500 high school students from across Alberta competed in this year's SCNC. The competition featured more than 30 unique events including carpentry, hairstyling, landscape gardening and cooking.  
Other EIPS students who competed in the 2018 SCNC include:
Cyan Lust; Hairstyling Senior; Bev Facey Community High
Joshua Hoffmann; IT Network Systems Administration; Bev Facey Community High
Ryan Braat (Bronze medal); Welding; Bev Facey Community High
"The level of dedication that our students put in leaves me speechless year after year," says Joseph Clark, the director of Learning Services at EIPS. "The Skills competitions have been a great platform for our students to show off the wide variety of talents they possess on a provincial and national stage."
Launched in 1994, SCNC is an annual national competition that aims to better equip youth with the knowledge and skills needed to advance in the trade and technical sectors and to showcase career opportunities in both fields. For the complete list of results from this year's SCNC visit www.skillscompetencescanada.com.
Congratulations to Andrik and all the students who participated in this year's Skills Canada National Competition!
EIPS is one of Alberta's largest school divisions, serving approximately 17,150 students in 42 schools. We are proud to be an integral part of our communities, including Sherwood Park, Fort Saskatchewan, Vegreville, Strathcona and Lamont counties, and the western portion of the County of Minburn.
–30–
For more information contact:
Joseph Clark, director, Learning Services, EIPS 780-467-8173
Laura McNabb, director, Communication Services, EIPS 780-417-8204 cell 780-405-4902