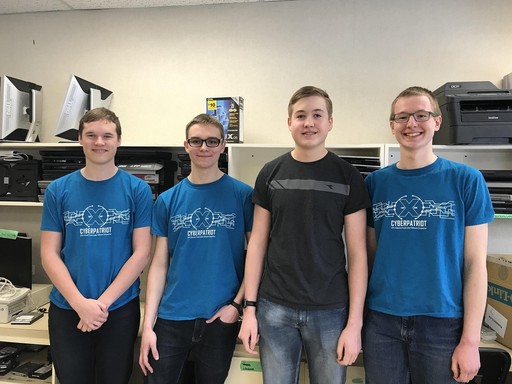 Sherwood Park, AB. — Bev Facey Community High students are representing the school in the upcoming national CyberTitan competition, on May 16. Stuart Cummings, Grade 12, Joshua Hoffmann, Grade 12, Kieran Hanrahan, Grade 12, Isaac Wittmeier, Grade 11, and Adam Jackson, Grade 11, are in Fredericton, N.B., to compete in the annual cyberdefense competition against nine other teams from across Canada.
All five students are part of the Facey Cybersecurity Club, a school-based extracurricular program that teaches skills in computer science and networking. Recently, the team competed in a qualifying round of the CyberTitan competition—earning platinum status against 92 other teams. During the competition, teams were challenged with securing computer systems against attacks from hackers, viruses and other threats over four, six-hour sessions earning an invitation to nationals.
"I'm excited we now get to travel and compete in person," says Jackson. "We've worked hard to get ready and I think we'll do well at the national competition, too. In class and through the club we work on a lot of real-life problem solving and it's what inspired me to pursue a career in the cybersecurity field."
Two teams of students were chosen from the Facey Cybersecurity Club to participate in the competition based on skill level, experience and desire to take part. Although one team is moving on to the national level, both teams excelled at the qualifying level—with the second team only a few points behind the first. At the national competition, the students will be tasked with protecting and defending an imaginary computer system against cyberattacks—all in real-time.
"Cybersecurity and defense is a natural extension of our networking program to prepare these students for job readiness," says Michelle Killoran, a teacher at Bev Facey Community High who oversees the Facey Cybersecurity Club. "It's unbelievable how much students have grown in the last year. It speaks volumes to the strength of our program and the student's dedication. The skills they are gaining in operating-system setup, network planning and penetration testing will serve them well as they build their future careers in the IT sector."
Annually, the United States Air Force Association, in partnership with the Information and Communications Technology Council, holds the CyberTitan competition as part of its CyberPatriot program, which is meant to inspire students to pursue careers in the cybersecurity and other science, technology, engineering and mathematics disciplines. Congratulations to Stuart Cummings, Joshua Hoffmann, Kieran Hanrahan, Isaac Wittmeier and Adam Jackson who are representing Bev Facey in this year's CyberTitan.
Bev Facey Community High serves approximately 1,000 students and is one of 42 schools within Elk Island Public Schools. More information about the school is available at www.bevfacey.ca.
–30–
For more information contact:
Michelle Killoran, teacher, Bev Facey Community High 780-467-0044
Laura McNabb, director, Communication Services, EIPS 780-417-8204 cell 780-405-4902