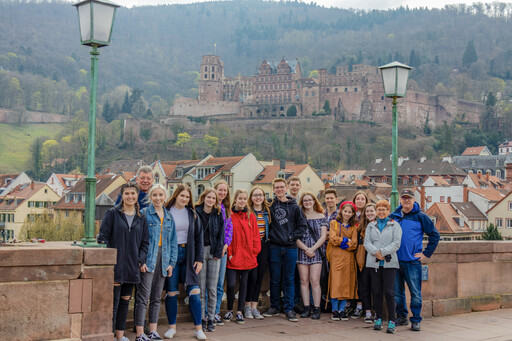 Sherwood Park, AB. — Sixteen students from Salisbury Composite High have just returned from a two-week trip to Germany. The trip was the second part of an international exchange program, where students from both countries have the chance to learn the language and culture of their counterparts in an immersive setting. "Germany is really beautiful," says Spencer Ahearn, a Grade 12 student at Salisbury Composite High. "The culture was so different. It was fascinating to see immense differences and yet the odd similarities that span the ocean."
In October 2018, students from Nikolaus-August-Otto School in Bad Schwalbach, Germany came to Canada to practice their English skills and learn about life in Canada. Then, from March 16-31, it was the Canadian students' turn to visit Germany to learn more about the language and culture of their European counterparts. During the day, students experienced life as a German student, following their partners to familiar classes such as math and chemistry, but with instruction entirely in German.

The students also got to take a variety of field trips with their partners. Together, they toured the region, visiting medieval castles, museums and nearby cities where they gained a deeper understanding of German history and culture. The Canadian students even took an overnight trip to Heidelberg, a medieval university town, where they toured the centuries-old buildings and walked in the footsteps of 14th century scholars. In addition to classes and group activities, each Canadian student got a personalized experience, as their host families took them on individualized trips during evenings and on weekends.
"This experience is something our students will carry with them for the rest of their lives," says Cameron Archer, Salisbury Composite High's German teacher. "Learning a language in a classroom is one thing, but nothing compares to having the opportunity to experience the culture first-hand and make lasting friendships with native speakers. Many of the students in the program are already making plans to visit each other once they graduate, and spend even more time exploring their countries together."
Bolstered by the success of the experience on both sides, Archer and his German counterpart are already eagerly planning the next pair of exchange trips, which  take place in the 2020-21 school year.
Salisbury Composite High serves close to 1,100 students in grades 10 to 12 and is one of 43 schools within Elk Island Public Schools. More information about the school is available at www.salcomp.ca.
–30–
For more information contact:
Cameron Archer, Teacher, Salisbury Composite High, 780-467-8816
Laura McNabb, Director, Communication Services, EIPS 780-417-8204 cell 780-405-4902