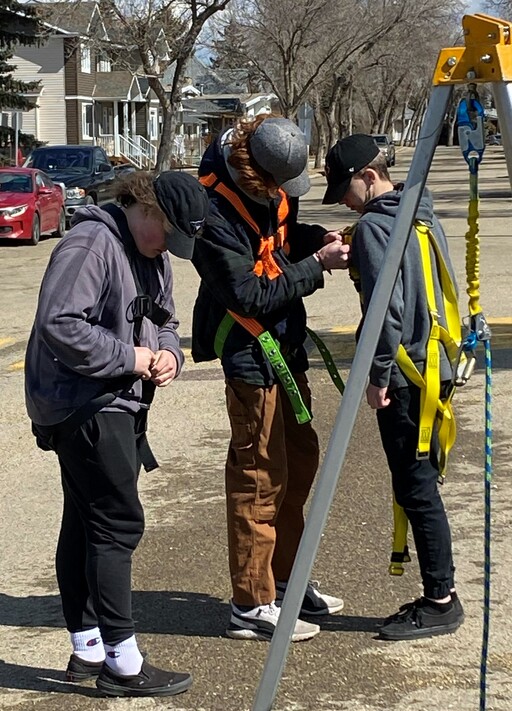 Sherwood Park, AB. — This May, Elk Island Public Schools (EIPS) students from Fort Saskatchewan High, Next Step and Salisbury Composite High became the first ones to complete the Foundations in Industry Workplace Safety dual-credit course.
Foundations in Industry Workplace Safety seeks to prepare students for future careers that require specialized safety knowledge through a series of practical training sessions. "The course gave us valuable knowledge and skills to enhance our employability," says Rylin Craggs, a Grade 11 student at Fort Saskatchewan High. "I also learned a lot about the different careers within the trades."
The course teaches students a foundational understanding of the legislative requirements and responsibilities under the following eight industry standard safety courses:
Construction Safety Training (CSTS 2020);
Confined Space;
Detection and Control of Flammable Substances;
Fall Protection Awareness;
Ground Disturbance;
H2S Alive;
Transportation of Dangerous Goods; and
Workplace Hazardous Materials Information System (WHMIS) 2015.
They also receive industry level certification for the above courses, five 30-level Career and Technology Studies credits and are ready to enter the industry workplace upon completion. Career preparation is a priority for the course, culminating in writing resumes and cover letters, applying to jobs, and preparing for interviews.
AT Safety Training provides all the instruction for the eight safety courses—the same sessions the organization offers to adults working in a variety of industries and fields. "Being able to partner with EIPS and offer students the ability to gain knowledge and safety training during high school is simply amazing and highly beneficial," says Veronica Mcleod, the Director of Training at AT Safety Training. "Students learn skills that allow them to obtain careers in oil and gas, construction, mining, and our local trade unions—to name a few. It also gives them the advantage to seek employment immediately and be job ready for employers. The most important factor they're taught is safety, legislation, and how to protect themselves and others on a job site. We look forward to their success!"
The Foundations in Industry Workplace Safety course is being offered in the Division's upcoming summer school program and will take place July 4 to 14. Interested students can register on the EIPS Summer School website.
"The Foundations course was a great opportunity for me to earn industry standard certification for free," says Blake Lamarche, a Grade 12 student at Fort Saskatchewan High. "I was also able to connect with Career Pathways and get an interview at DOW Chemical for the Registered Apprenticeship Program."
Elk Island Public Schools is one of Alberta's largest school divisions, serving approximately 17,460 students in 43 schools. We are proud to be an integral part of our communities, including Sherwood Park, Fort Saskatchewan, Vegreville, Strathcona and Lamont counties, and the western portion of the County of Minburn.
RELATED INFORMATION:
EIPS Summer School: Foundations in Industry Workplace Safety
AT Safety Training
–30–
For more information contact:
Laura McNabb, Director, Communication Services, EIPS 780-417-8204 cell 780-405-4902