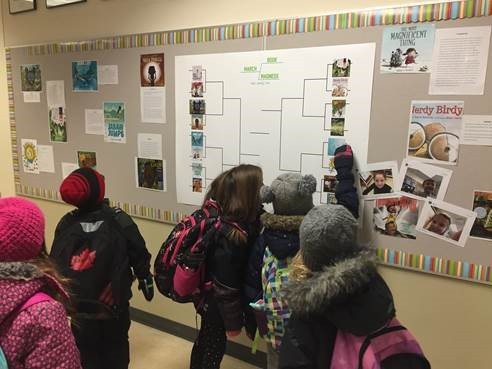 Sherwood Park, AB. — While most people are focused on basketball this time of the year, students at Lakeland Ridge are focusing on something a little different—reading. "It's part of our March Madness," says Boden, a Grade 1 student at Lakeland Ridge. "It's fun because I get to read books I like and also cheer for them."
Over the last month, elementary students at Lakeland Ridge have been busy reading a series of selected books and casting votes on their favourites as part of March Book Madness, a bracket-style tournament where books compete against each other similar in format to the NCAA March Madness basketball tournament. Students start with 16 books. During each bracket, two go up against each other and are then voted on by each class—majority-rule style. Votes are then tallied schoolwide and whichever book gets the most points moves on to the next round.
"Surprisingly, it can be a little emotional for students," says Susan Cooksley, a Grade 1 teacher at Lakeland Ridge. "When they look at the bracket they're either really excited or genuinely upset to see how their favourite books fared. That's what it's all about: getting students excited about books and excited about reading."
To cast a vote, each class has to read both competing books in the bracket and then discuss them at length focusing on compelling characters, plot development and why one book should win over the other. This year's book contenders were: Ada Twist, Scientist, Dave the Potter, Each Kindness, I Dissent: Ruth Bader Ginsburg Makes Her Mark, Jabari Jumps, Mother Bruce, Most Magnificent Thing, Mr. Tiger Goes Wild, Nerdy Birdy, Not Quite Narwhal, Radiant Child, It's Not Jack and the Beanstalk, Shark Lady: The True Story of How Eugenie Clark Became the Ocean's Most Feared Scientist, Thunder Boy Jr., Unicorn Thinks He's Pretty Great, and The Water Princess. On Monday, students made their final vote—the winning book was none other than Not Quite Narwhal, a picture book written by Jessie Sima about a young unicorn who was born under the sea to a family of narwhals.
"It's a great story with an underlying message about fitting in, standing out and the all-encompassing love of family," says Cooksley. "Everyone loved the book, they wanted to read it and they wanted to talk about it with their classmates. As teachers, our goal is for our students to see reading as something they want to do, not something they have to do. I think that's why initiatives such as the March Book Madness are so positive because it exposes students to books they may not have noticed before and engages them as readers."
Looking ahead, Lakeland Ridge plans to make March Book Madness an annual event and hopes to grow it even more by including a junior high category and a teacher category.
Lakeland Ridge is a kindergarten to Grade 9 school serving approximately 740 students and is one of 42 schools within Elk Island Public Schools. More information about the school is available at www.lakelandridge.ca.
–30–
For more information contact:
Ryan Marshall, principal, Lakeland Ridge, 780-416-9018
Laura McNabb, director, Communication Services, EIPS 780-417-8204 cell 780-405-4902