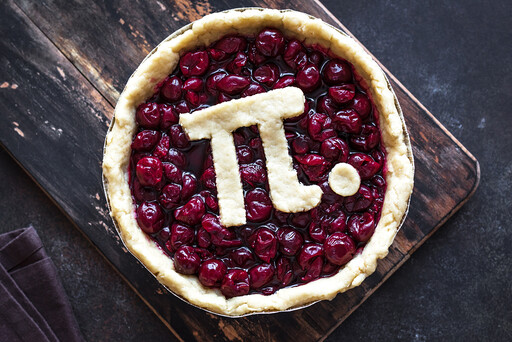 Sherwood Park, AB. — Today is Pi Day, a day of celebration for math learners all around the world. Elk Island Public Schools (EIPS) students and teachers are using the day as an opportunity to celebrate numeracy, compete in math challenges and of course, eat pie.
Pi, represented by the Greek letter "π," is a mathematical constant used to calculate the circumference of a circle. The infinitely long, irrational and non-repeating number has captured the imaginations of math learners throughout history. Every year on the 14th day of the third month—3.14 being the first three digits of pi— students and teachers take time to celebrate the history and the wonder of math.
"Pi Day creates a lot of excitement around math learning," says Barb Percy, a numeracy consultant with EIPS. "Even though students don't begin using pi in math class until junior high, it's a concept that even younger students can engage with, by making connections between a circle and the shape of a traditional pie. It allows us to start conversations around math, and demonstrates to students math class can be both fun and exciting."
Members of the media, parents and community are invited to join EIPS students for the following Pi Day events:
Wes Hosford Math-a-Thon: Wes Hosford students have been collecting pledges and are competing in a series of math games to raise money for their new playground. Prizes will be awarded to the top-performing math-letes in each grade level.
Location: Wes Hosford Elementary; 207 Granada Blvd., Sherwood Park
A Day of Pi at Fort Saskatchewan High: Fort Saskatchewan High students are learning about pi's mathematical uses and its social and historical importance as well. At lunch, the cafeteria will be selling pies of all kinds for students and staff to enjoy, for $3.14 each.
Location: Fort Saskatchewan High; 10002 97 Ave., Fort Saskatchewan
Pie Lunch at Fort Saskatchewan Elementary: The students at Fort Saskatchewan Elementary have been busy solving daily math challenges and taking part in hands-on math games as part of the Week of Inspirational Math. Today they're getting a much deserved treat of pie for lunch.
Location: Fort Saskatchewan Elementary; 9802 101 St., 97 Ave., Fort Saskatchewan
Clover Bar Junior High Pie Throw: In addition to learning about pi and eating pie for lunch, students will have the chance to study the aerodynamics of pie. For 50 cents, students will be allowed to throw pies in the faces of their favourite teachers, with proceeds going to charity.
Location: Clover Bar Junior High; 50 Main Blvd., Sherwood Park
NOTE: Principals have the responsibility to limit media coverage only to students approved for interviews. Reporters attending the event are requested to receive permission from a school EIPS representative before interviewing or photographing students. Thank you for your co-operation, and for joining us.
EIPS is one of Alberta's largest school divisions, serving approximately 17,150 students in 43 schools. We are proud to be an integral part of our communities, including Sherwood Park, Fort Saskatchewan, Vegreville, Strathcona and Lamont counties, and the western portion of the County of Minburn.
–30–
For more information contact:
Laura McNabb, Director, Communication Services, EIPS 780-417-8204 cell 780-405-4902