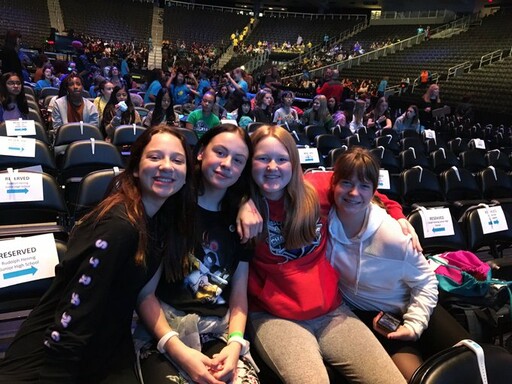 Sherwood Park, AB. —Today, students from six different schools across the Division are heading to Rogers Place to take part in WE Day 2019, an annual event that celebrates the achievements of young change-makers, and challenges students to be agents of positive change in their own communities.
"Taking our students to WE Day helps foster the belief that they can make positive change, as well as building their leadership skills," says Lori Nelson, a counsellor at Rudolph Hennig Junior High. "Our whole school culture benefits as a result of the work these students do, and it's important to show them their efforts are not going unnoticed."
Students from A.L. Horton Elementary, Clover Bar Junior High, Lakeland Ridge, Rudolph Hennig Junior High, Win Ferguson Elementary, and Wye Elementary are heading to Rogers Place, free of charge, for a day of inspiration and celebration. The day is meant as a reward for all the social justice work students take part in throughout the year. Over the course of the day, they're treated to speeches from world-famous activists, public speakers and musicians who tell stories of social-justice successes, share calls to action, and inspire students to keep fighting to make the world a better place.
To qualify for admission, students need to show they've made a commitment to social-justice issues in their own communities and around the world—through fundraising, awareness campaigns or any other act of public service. "WE Day is a nice perk for the activities we do throughout the year," says Kaelyn Cooper, a Grade 9 student and member of the Me to We student group at Rudolph Hennig Junior High. "But it's really just the icing on the cake. The work we do is important, and WE Day gives us a chance to reflect on how much we've accomplished."
Students at Rudolph Hennig Junior High have spent the last year participating in various local change-making campaigns, such as gathering warm clothes for people experiencing homelessness, collecting over 1800 pounds of food for local Christmas hampers, and working to raise awareness of bullying, poverty, and discrimination in their community. Ongoing global initiatives at the school include raising money for self-reliance and income opportunity programs in Tanzania.
At the end of today's celebrations and festivities, students will return to their schools rejuvenated, inspired, and ready for another year of hard work, making the world into a better place for everyone.
EIPS is one of Alberta's largest school divisions, serving approximately 16,150 students in 43 schools. We are proud to be an integral part of our communities, including Sherwood Park, Fort Saskatchewan, Vegreville, Strathcona and Lamont counties, and the western portion of the County of Minburn. To learn more visit www.eips.ca.
–30–
For more information contact:
Laura McNabb, director, Communication Services, EIPS 780-417-8204 cell 780-405-4902