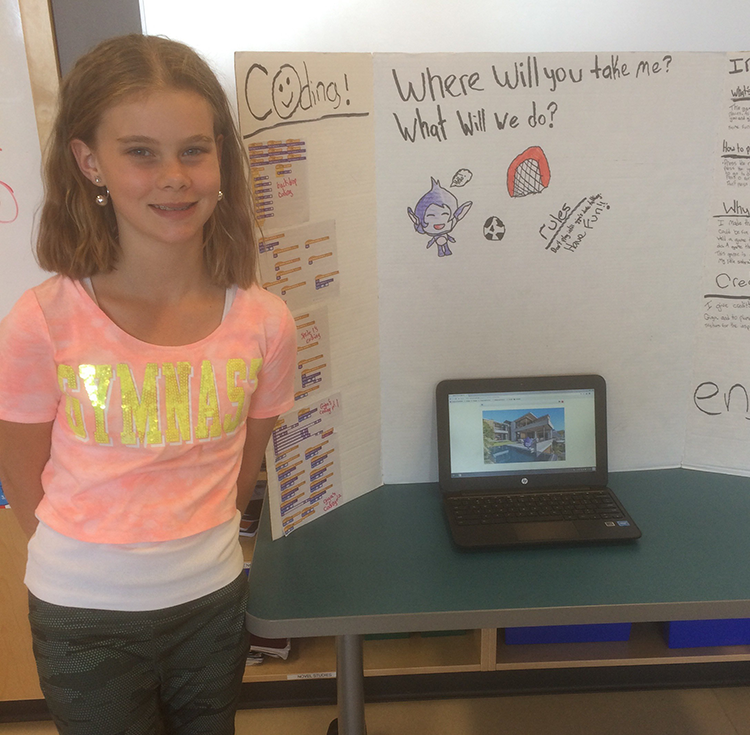 Sherwood Park, AB. — Elk Island Public Schools (EIPS) is teaching its students to cultivate new skills and, in doing so, is developing the next generation of coders.
"I learned a lot about coding while making my game," says Alexis Barron, a Grade 6 student at SouthPointe School. "My game 'Where Will You Take Me?' was perfect for the arcade because it's good for beginner or advanced players."
Games were showcased at the second annual Coding Quest Arcade, which took place at the Sherwood Park Community Centre – Agora on May 29. The Arcade is a culmination of The Learning Partnership's Coding Quest program designed to bring coding into the classroom. Earlier this year, students in grades 4-6 were introduced to the program, which integrates science, technology, engineering and math (STEM); coding and creative thinking into curriculum-aligned coursework. All participating students were then tasked with designing and developing a fully functional computer video game and a corresponding storyboard.
"Coding Quest is a win-win for us," says Jonathon Thomas, a consultant with Learning Services at EIPS. "The tech sector is transforming the way we do business, consume products and even how we interact with one another. So, having this incorporated into the curriculum offers our students the opportunity to develop their coding know how. Ultimately, we want to develop the skills and knowledge needed to harness our increasingly digitized world."
In total, more than 250 students from both EIPS and Edmonton Public Schools revealed what they've created and demonstrated their coding abilities at the Coding Quest Arcade. Some of the featured video games, which vary in both theme and objective, included: "Catching Unicorns," "The Adventure Game" and "Where Will You Take Me?"
"Every day is a learning process for these students," says Sid Shugarman, the program manager of The Learning Partnership's Coding Quest. "They're encouraged to explore, collaborate and to always try something new. By doing so with curriculum-aligned coursework, students are able to innately develop their knowledge in science, technology, engineering, math, writing and coding – skills they'll be able to apply long term no matter what they do in life."
EIPS is one of Alberta's largest school divisions, serving approximately 17,100 students in 42 schools. We are proud to be an integral part of our communities, including Sherwood Park, Fort Saskatchewan, Vegreville, Strathcona and Lamont counties, and the western portion of the County of Minburn.
–30–
For more information contact:
Jonathon Thomas, Learning Services consultant, Supports for Students 780-417-8245
Laura McNabb, director, Communication Services, EIPS 780-417-8204 cell 780-405-4902