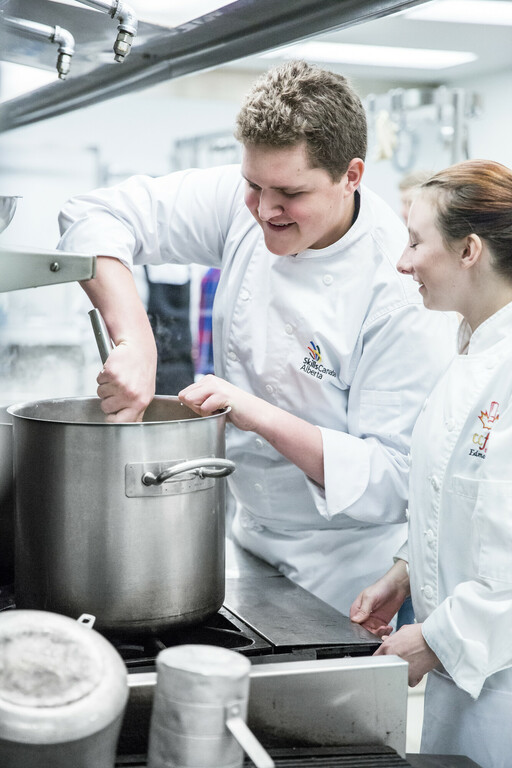 Sherwood Park, AB. — Students from across Elk Island Public Schools (EIPS) are ready to put their culinary skills to the test at the 12th annual High School Culinary Challenge (HSCC), a prestigious cooking competition for Edmonton-area culinary arts students in grades 10-12.
Four EIPS teams are competing in this year's challenge—from Bev Facey Community High, Lamont High, Salisbury Composite High and Vegreville Composite High. Each team of three has spent countless hours sharpening their skills, mastering culinary techniques and practicing their recipes. Now, they'll put all that hard work to the test as each team competes against 18 other teams from across the region at the 2019 HSCC on February 9.
"It's the first time competing for our new team and they're a little bit nervous," says Deanna Miller, the culinary arts teacher at Vegreville Composite High. "I think they'll do well. They've been practicing for weeks and spent last semester working in our industrial kitchen, so they're already comfortable with the equipment they'll use in the competition. They also all have a great work ethic, keep themselves organized and work with quick precision—all skills that will help them succeed on Saturday."
Participating teams were chosen in the fall by the HSCC organizing committee, from applications submitted by teachers. Each team will prepare a three-course meal—carrot ginger soup, chicken cacciatore with hand-cut fettuccini and chocolate mousse with fruit sauce and a chocolate or sugar garnish. The plates will then be evaluated by a panel of judges, made up of accomplished professional chefs, using seven marking criteria: sanitation, timing, temperature, organization, presentation, preparation and, of course, taste. The top three teams are then announced at the Canadian Culinary Federation's High School Culinary Challenge Awards Dinner on March 4, 2019.
"Our students have been practicing many of the relevant skills in our day-to-day menu production, but the competition is designed to be challenging," says Jennifer Steele-Watts, the culinary arts teacher at Bev Facey Community High. "Teams will have to employ higher-level abilities, such as precision cuts and delicate chocolate work."
In addition to winning gold, silver and bronze, Grade 12 students who participate in the HSCC also have the opportunity to apply for a full scholarship to the three-year Cook Journeyman Apprenticeship program at NAIT. Up to three scholarships are awarded each year. Scholarship recipients are also announced at the HSCC awards dinner.
EIPS is one of Alberta's largest school divisions, serving approximately 17,150 students in 43 schools. We are proud to be an integral part of our communities, including Sherwood Park, Fort Saskatchewan, Vegreville, Strathcona and Lamont counties, and the western portion of the County of Minburn.
–30–
For more information contact:
Laura McNabb, Director, Communication Services, EIPS 780-417-8204 cell 780-405-4902