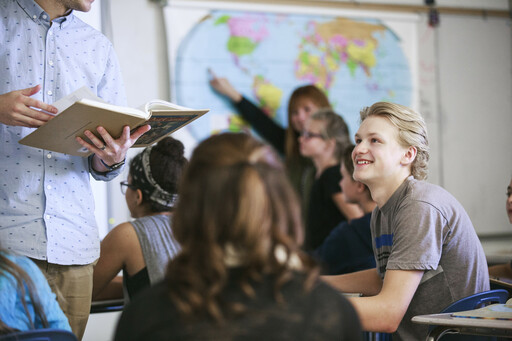 Sherwood Park, AB. — Alberta Education recently released its provincewide "Diploma Examination Results" report for the 2018-19 school year. Again, students from Elk Island Public Schools (EIPS) earned strong marks, particularly in the areas of English language arts and science.
"The results are impressive and quite the achievement for a school division," says Trina Boymook, the Board Chair at EIPS. "What it tells us, as a Board, is we're meeting our priorities, we're supporting student success and we're ensuring learners have the tools they need to achieve to the best of their abilities."
Most notable are the number of students who achieved marks at the Acceptable Standard in English 30-1, English 30-2 and Science 30. Students also showed improvements in English 30-1, Mathematics 30-1, Mathematics 30-2, Chemistry 30, Physics 30 and Science 30. At the Standard of Excellence category, EIPS students scored particularly well in the areas of English 30-1, Mathematics 30-2, and Science 30. Similarly, students in French Language Arts 30-1, Mathematics 30-2, Biology 30 and Science 30 all demonstrated higher results from the year previous.
"Year after year, EIPS students score high marks on the diploma examinations—both at the Acceptable Standard and the Standard of Excellence," says Boymook. "This year, we're also seeing slightly higher scores in the areas of literacy and numeracy, which is directly linked to new programming initiatives introduced by the Division last year. Looking ahead, EIPS will use the data from this year's results to find even more ways to meet the educational needs of all students."
Alberta Education requires students who take 30-level courses in English language arts, French language arts, social studies, mathematics, biology, chemistry, physics and science to write a diploma examination. In addition to diploma examination results, EIPS uses various reporting inputs to evaluate the success of the student-learning experience. Other measures include the provincial Accountability Pillar, student and parent surveys, and assessment and report card data.
As part of the Division's commitment to continuous improvement, all EIPS principals review individual school results and share them with their staff and school communities. The results are also compiled and used to guide each school's education plans and the Division's Annual Education Results Report.
RELATED INFORMATION:
2018-19 Diploma Examination: EIPS and provincial results
2018-19 Grade 6 Grade 9 PAT: News Release
2018-19 Grade 6 Grade 9 PAT: EIPS and provincial results
EIPS is one of Alberta's largest school divisions, serving approximately 17,150 students in 43 schools. We are proud to be an integral part of our communities, including Sherwood Park, Fort Saskatchewan, Vegreville, Strathcona and Lamont counties, and the western portion of the County of Minburn.
For more information contact:
Laura McNabb, Director, Communication Services, EIPS 780-417-8204 cell 780-405-4902